Sean Huxter is a Senior Technical Artist and avid toy collector who enjoys spending his free time designing and 3D printing anything and everything related to science fiction.
---
Huxter remembers the day he received his Afinia 3D printer like it was yesterday, although it was just over a year ago, on June 7, 2013. "It was my first true experience with a 3D printer. Even with reading through the manual and setting up the printer, I had my first print completed within 105 minutes of opening the box. It was a dalek from the Dr. Who series."
It is no surprise that Huxter put his printer to immediate use. He dreamt of a 3D printer before they existed, and suppressed his desire to buy one when they first came out for over $10,000. "When the machines dropped to a reasonable price, I picked up MAKE Magazine and saw the Afinia 3D printer won "Best Overall Experience", "Easiest to Use" and "Easiest Set Up". It's accuracy, precision, and price were all great." Huxter rummaged through his storage room and began selling some of his collectibles on eBay to raise funds for the printer. "It was worth it. I can't say enough about the printer. The first thing I do when I get home is turn it on and let it warm up… there are few nights when the printer is silent."
Veteran of Design
"I've been designing and tinkering since I was a kid. The show "Thunderbirds" inspired me when I was just 7 years old. There weren't any Thunderbirds-themed toys, so I would take construction paper and toilet paper rolls and build my own. My grandfather made one of the pistols from "Space: 1999″ out of wood for me, too. That meant a lot to me."
"I wanted a 3D printer before they existed! Before, all I could do was look at a model on a screen. Now I can pick it up and throw it at someone!" Huxter exclaimed, shortly followed by a chuckle, "…not that I would!" Even after a year with the Afinia 3D printer, Huxter's amazement lingers. "I'll sit and watch it for an hour straight without looking away. It's an incredible device."
3D Sea (of Parts)
"I have printed thousands of parts. Looking at the line of robots I did, each is about 1.5″ tall and has 12-15 parts. Several of the rockets I've made each have 20-30 parts. I usually do a couple of drafts of each project, so the prints really add up," Huxter notes.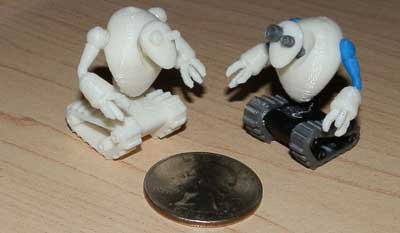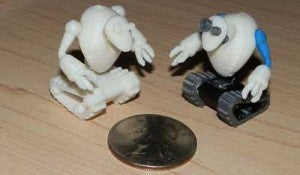 Swooning Over Software and Support
Huxter's love of Afinia started before he even received his printer. "My first experience with Afinia was when I called and asked for a sample print of the Taj Mahal. Ever since, I've had no problem calling, because I know they'll answer. I've always gotten a great response. And the software is a dream."
"My friend got a different 3D printer shortly before I did, but never got to printing. The software was so arduous he never got anything done. With the Afinia software, you load the STL file and hit print. That's it. It figures everything out for you."
With all of the use the Afinia 3D printer gets, Huxter is amazed at how few errors he has experienced. "I almost never get errors. My biggest problem was the perf board not holding down a large area print, so I got the Borosilicate glass and haven't had a problem with it since. It's magic!"
Huxter also likes to tell people that Afinia fixed his printer by email. "One of the parts cracked after a lot of use, so they just sent me the file to print a new one. I now have printed a number of backup spare parts, just in case!"
Intricate Designs and Detailed Prints
With Huxter's design experience, the sky is the limit with his prints: he recently designed a Thunderbird 3 rocket crafted from 83 individual 3D printed pieces that snap together. Intricacy does not intimidate Huxter. "One of my next prints is going to be the new Thunderbird 1 with scissor wing action. I haven't done much with movable parts, because I haven't had time. But I have some ideas for movable machines, solar-powered machines, and miniature motors. I do have a drone that has a rotating camera and legs that descend and fold up. It is a part of the GI Joe's Midnight Mission Explorer Deluxe Uniform Set that I helped create accessories for. It comes with an arm-mounted control system for the drone, too."
A Collector's Dream Come True
"I've been able to print so many different things on my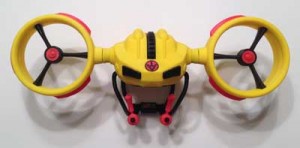 Afinia 3D printer. Some for myself, some for sale, and some to send to other collectors. It is a close-knit collecting community. Someone will find something in their own collection they don't need and will send it to another collector for free. Lots of collectors just have store-bought items, while others may have things made from resin or cloth. I'm one of the few collectors who is using a 3D printer to create things that didn't originally exist for the collector items."
Huxter is thrilled with all of the prints he has created since receiving his Afinia 3D printer. "It prints beautifully, seamlessly, and effortlessly. I wouldn't be able to achieve these prints without this machine. It's a dream come true."
If you are interested in keeping up-to-date on Huxter's work, visit his blog here.