Vadym Chalenko: Designer, Inventor, and Manufacturer
Vadym Chalenko began his career as a graphic designer and has created illustrations for a number of retail t-shirt customers. He also has an interest in photography/ videography, and therein lies the start of his journey from Inventor, to 3D printing to Manufacturing.
Capturing Inspiration
"Last September I was looking for another phone and was really surprised by the photographic and video-graphic quality of the new models. I selected a Galaxy S3 and started using it more as a camera than as a phone."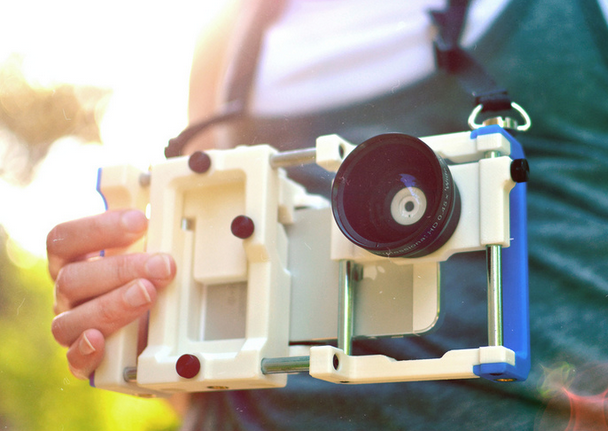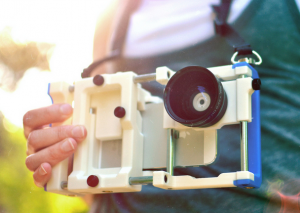 "Overall, camera phones have some limitations. They can be uncomfortable to handle for photography or videography and produce shaky footage. Also, I wanted something to which I could add conversion lenses, or other photo/video accessories because I wanted to add creativity to my work."
"There wasn't anything on the market like what I wanted, so I decided to create something. My first attempt was made from a protective case, to which I added a lens mount-ring and a handle with tripod mounts. It was OK, but every time I used it I spent too much time mounting my phone. I decided to make it adjustable, for fast phone mounting and removal. I also wanted to make it universal, since phones are getting better, and people change them much faster than they change cameras."
"I was able to sketch a bunch of concepts and created my designs in 123D. I started talking to prototyping services and quickly discovered that CNC-machined prototypes were too expensive and making revisions would really run-up my bill."
Choosing 3D Printing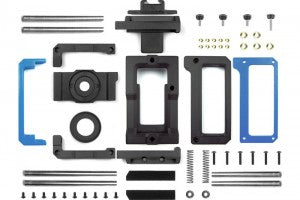 "I ordered my first prototype from a 3D printing service and that's when I realized that 3D printing was the way to go. I was fascinated by the concept and spent many hours researching alternatives. I came across the Afinia 3D printer, saw the excellent reviews and good customer feedback. The thing that really caused me to buy my first one was the Make Magazine "Ultimate Guide To 3D Printing", where Afinia won "Best Overall".
"I have modified my original design over 200 times and the Afinia 3D printer allows me to make changes in a very cost-effective manner."
"My initial manufacturing idea was to use injection molding, but after contacting number of companies I realized that the initial setup fee was way over my budget.  In addition, the size of the minimum production runs and the required additional materials, parts, and assembly would make the sell price too high, even if I would have sent the work overseas."
"I printed the parts on my Afinia 3D printer using high resolution settings, and got feedback from friends and other people.  Everyone told me, "It looks cool, like finished product." They also liked the fact that it was 3D printed. A lot of people where asking to purchase my adapter. I decided to use Afinia 3D printers to manufacture the Beastgrip and offer my product for sale. To make my production more efficient, I would need more printers so I decided to create Kickstarter campaign to bring my idea to life."
"I calculated that I would need $25,000 to buy the raw materials and printers to achieve economies of scale. I was pleasantly surprised when my campaign brought in almost $40,000."
"I have begun manufacturing units for my backers and I am literally running my Afinia 3D printers 24/7 without any issues. The Afinia software is great, especially since it calculates where the support material goes, so I don't have to. It also comes off really easily, which is important because I have to make about 500 Beastgrips."
"Since then, I have purchased a few more Afinia 3D printers to get production started and will purchase some additional units when I receive my Kickstarter funds."