David White is a talented freelance illustration and concept design artist in Western Massachusetts. He specializes in robot art and has self-published books and other items for fans of robotics. White began creating 3D-printed designer toys in July of 2013. Some of his big-name clients include Lego and Scholastic.
---
Most adults who spend much of their day around toys usually answer to the name of "mom" or "dad," and spend their time picking up what a Craigslister would politely term "well-loved" toys.  David White is an exception.
Toying Around
White's days are almost entirely spent around toys.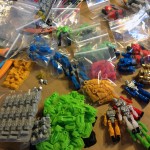 However, these toys take on a different meaning of "well-loved." As a freelance artist, White pours his creativity into making designer toys for the young-at-heart. Creating the designer toys started out as an homage to the "Micronauts" of the 70s. "I took the design of those toys and combined it with with a diaclone. I started doing sketches that were a 50/50 mix of the two and then figured it would be fun to 3D print them."
Just one year after beginning his 3D-printed toy journey, White has created four designer toys that he sells online, and has plenty of ideas for the future. [Read more…]