Eric Haddad is Chief Problem Solver at DiFi3D (Dimensional Fidelity). DiFi3D makes product development accessible for 'the little guy' by keeping costs down in the prototyping phase by using the Afinia H800 and H480 3D printers.
DiFi3D Makes Dream Designs a Reality

Haddad started DiFi3D in 2012 as a side-gig, and has grown it into a full-time job that he's passionate about. "I help people refine and visualize their dream design, and set their product on the path to reality. I work a lot with individuals, and many times their ideas are tied to living a dream life. It's my job to take their idea and move it to the next level, and help them visualize it," says Haddad, who designs the product in CAD and 3D prints it. From there, he works directly with manufacturers, attains quotes, and streamlines the project for manufacturing or assembly.
3D Printing at DiFi3D
Luckily, Haddad's background (which includes a degree in manufacturing technology and 3D printing experience) has made him a rapid prototyping guru. "I've worked with 3D printing in grad school and in my previous job, and purchased my first desktop printer in 2010." With his experience in 3D printing, Haddad knew what he was looking for while researching which brand to buy for DiFi3D.
"I wanted to get the biggest bang for my buck. Something that wouldn't break the bank, but that had a high-quality, professional look. The quality to price ratio for the Afinia 3D printer is awesome," exclaims Haddad. "Plus, the Afinia scored highly in the MAKE: Magazine reviews a couple of years in a row, and has an excellent reputation when it comes to tech support."
"When I compared the Afinia brand to others*, I also noticed that the Afinia support structure let me print complicated geometry without messing with settings a ton, which I love," adds Haddad. "I use the printers almost on a daily basis for client work, creating prototypes and conceptual models."
Keeping Clients Happy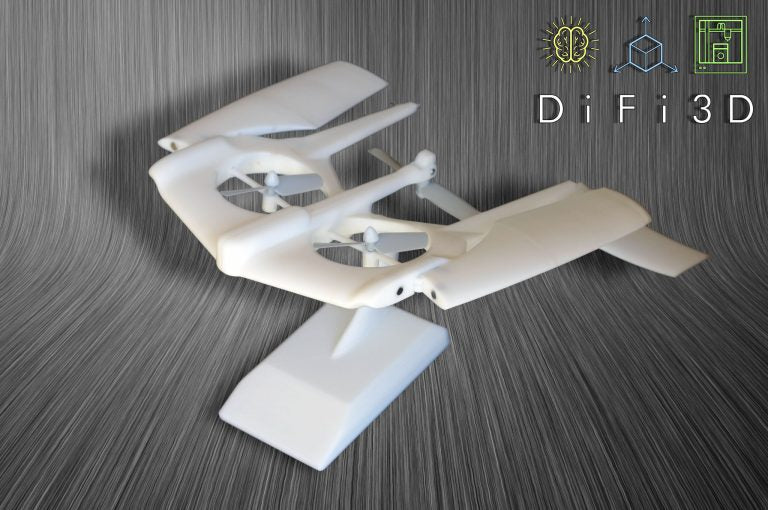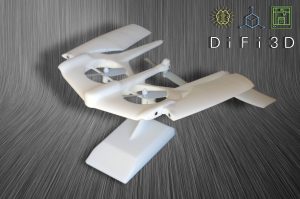 The clients Haddad works for have been very happy with the quality and functionality of the models he provides. "I do a lot of work for an aerospace company, creating their conceptual models for their unmanned aerial vehicles. They need conceptual models of a vehicle that can take off vertically, but can then transform and fly forward. Using 3D printing really helps to display the ideas and designs that will work for them," says Haddad.
Moving Forward with 3D Printing and Prototyping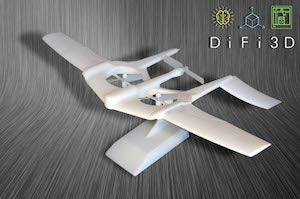 Haddad's business has evolved since it began in 2012. "For the first two years, I just did CAD development. I started offering 3D printing in 2014, and now it makes up for about 50% of my income," tells Haddad. "Ultimately, I'd love to build DiFi3D into a higher volume low-cost 3D printing provider… it would be an excellent resource for my clients, while still providing me with an income."
"In essence, my goal is to provide services to individual inventors and small businesses who want to make progress on their ideas, without the sticker shock that's common in most manufacturing environments," says Haddad. "I've been very pleased with how the Afinia 3D printers have helped me achieve that."
*Haddad has both researched other brands' 3D printers and written a review of his own Afinia H800, which you can read here.