Sam Jarrett is the President of Modification Fabrication, a compression molding business using DAP (diallyl phthalate) in Harrisonville, Missouri, that has been around for over 40 years.
Industry-Changing Technology
"The first time I saw a 3D printer, I knew it was going to change manufacturing forever," says Jarrett. "I knew I wanted to add one to the company, but a 3D printer is not a small purchase, so I spent about a year and a half researching different 3D printers."
On top of his research, Jarrett also frequently discussed 3D printing with the man who sells him drills. "We'd talk about 3D printers any time he came by the office," says Jarrett. "He actually sells a couple of different 3D printer brands, one of which is the Afinia. Based on my research and discussions with him, I determined the Afinia H800 was the way to go."
Previous 3D Printing Experience Not Required
Although Jarrett did not have previous 3D printing experience, it was not an issue. "That's part of what makes this so awesome," he adds, "I had read some books, including 3D Printing for Dummies, which talked a lot about the maker movement, and people building their own 3D printers. I'm pretty mechanically inclined, but didn't want the hassle, and went with the H800 for a more 'just hit print' option."
"The H800 has been absolutely awesome. The day I got the machine, I set it up, and even without prior experience, was printing something within about 15 minutes," remarks Jarrett. "I'm not a computer guy. I'm a mechanical guy. But the Afinia software is easy to use. The learning curve for me was mostly familiarizing myself with CAD to create the files. The rest is simple. I run the printer for about 15-20 hours per week, and it hums right along. I've only had one clogged extruder, but, admittedly, it was user error, and was easily fixed."
Saving 'Tons' of Time
Jarrett admits he's been very pleased with how adding 3D printing has affected his business. "I mainly use the H800 to create parts that make my job easier and quicker. It's honestly saved us tons of time."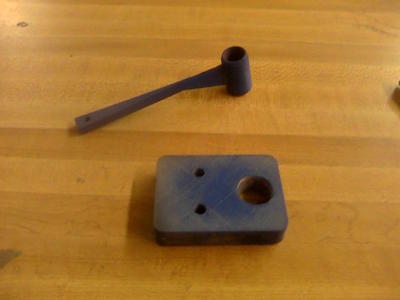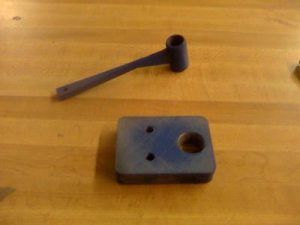 One of the main parts Jarrett has used the H800 to create is 3D-printed, custom-size dipper cups. Typically, a worker has to fiddle with the scale to measure out the powder by weight, but Jarrett converts it to volume, and 3D prints the correct size dipper cup.
"Right away, the staff was commenting on how the process was so much faster," he says, adding, "You can imagine how much time it saves when you're molding thousands of pieces and don't have to use the scale for each piece."
Rapid Prototyping
Jarrett has also had a lot of success with using the H800 for rapid prototyping. "Whenever I make a mold, that's how the part is going to be forever. But with 3D printing, you have a design CAD computer file that you can easily adjust," Jarrett explains. "If my client wants to make a modification, I just make adjustments to the file. No new tooling. Just a simple tweak on the computer, and send it to the printer again."
"Even though it may be less expensive to order a part from China, the lead time is so much less with 3D printing. I can have a part to a customer in a day, and they can inspect it, determine if they need any changes, and have a final product in a fraction of the time."
Creating New Service Opportunities
Jarrett is also experiencing an unexpected benefit of having the H800 on board: once customers found out he has a 3D printer, they've started requesting prints. "They send me a 2D drawing, then I make it 3D and send it to the 3D printer. I've gotten great reviews on how accurate the prints are. It's great to be able to add this as another service we can offer to customers."
Modification Fabrication has thrived for 40 years without a website, and gets customers through word of mouth. To contact Sam, email is best: modandfabinc[at]embarqmail[dot]com.