Kristine Mostyn is a Librarian at Lee-Whedon Memorial Library in Medina, NY. The library has an Afinia H479 3D printer and recently acquired an Afinia ES360 3D scanner.
---
3D Printing at the Library
When the Afinia 3D printer arrived at the Lee-Whedon Memorial Library, it was Librarian Kristine Mostyn's first time using 3D printing technology. "It was fantastic. I picked up on it very fast. The first day we set it up, we were already printing. It was very easy, and the instructions were great. It was a relief that it worked right out of the box," Mostyn explains.
After Mostyn was familiar with the 3D printer, the library made the technology available to their patrons. "When people first see the 3D printer at work, they are definitely impressed," says Mostyn. "Sometimes they are surprised at how long the 3D printing process takes, but they are blown away by the quality of the prints."
To ensure the printer is used correctly, patrons are required to take a class with Mostyn prior to printing. "I'm not usually in the 3D printing area when people are printing. We have that space open Monday through Friday, and people have been using it fairly consistently," tells Mostyn. "We have had some people that realize how beneficial 3D printing is, and they are inspired to build or buy their own 3D printer, so they have access to it in their own home.
"As for the projects people continue to make at the library, one of the things I've seen is a jewelry mold. They print plastic molds, then pour whatever material in to make the jewelry. I've also seen pieces that are 3D printed to fix broken equipment. It's great to see people using the technology to solve problems. A local college professor is using it to print some of DaVinci's inventions."
Why They Chose Afinia
The Lee-Whedon Memorial Library has had the Afinia 3D printer for a couple of years already. "It works great," Mostyn says. "Originally, there was a director from a local library in Walworth who was doing 3D printing presentations, and he had an Afinia 3D printer. We liked it, and knew we wanted to get one.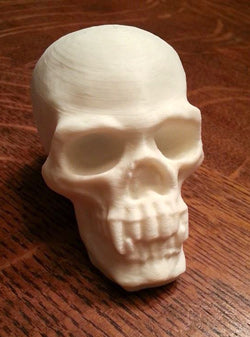 "We recently purchased an ES360 3D scanner, too," shares Mostyn. "We had looked at a couple of different scanner options, but we liked the type of lighting/laser that the ES360 used, and felt it was the best fit for our library. We are hoping to introduce the Afinia ES360 scanner to the public soon," says Mostyn, who thinks there will be plenty of ways the scanner will come in handy for patrons.
"We have a gentleman that sells microchips (like Raspberry Pi), so he could easily come in and scan the microchip case, and print his own before he sends out equipment." Mostyn also spoke about a graphic designer who frequents the library: "He likes to print things for customers before sending them the final products. So he could easily scan and adapt the object on software to send to customers."
Super Support
The 3D printer has held up strong at the library, experiencing only a couple of "normal maintenance" issues, such as replacing a nozzle. "We did have plastic get stuck in the nozzle (someone was trying to change plastic and pulled it out too soon)," says Mostyn, "but only once did we have to call support, and we had a very good experience with them. They were very helpful, and walked me through what I had to do."