Justin Stephens is one of the Global Product Managers at Intelitek, a company dedicated to transforming education across the globe through comprehensive technology learning solutions.
---
"As a product manager for an educational company, I often get the opportunity to speak with teachers, and one subject that regularly arises is 3D printing," explains Stephens. "Teachers who have previously been introduced to 3D printers, whether at trade shows or in other classrooms, typically recognize how powerful of a tool they can be to teach students prototyping, problem solving, and creativity." Stephens says that these teachers usually are interested in learning about what Intelitek has to offer for 3D printers, and if they have a complete solution.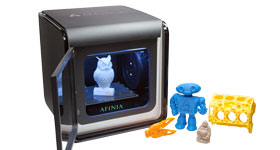 "Other times, I speak with teachers who have no experience with 3D printers, and they're wondering why they should introduce them into their classroom and how it will benefit their students," says Stephens. "For these teachers, I first try to learn what subjects they're teaching and the age group they typically work with. Depending upon the subject matter and age group, 3D printing can be used to create tangible teaching aids, such as ancient artifacts or physical representations of mathematic models. It can also be used to teach students about overcoming adversity and solving problems through the physical prototyping process. In addition, 3D printing offers students a different way to understand STEM subjects and provides teachers with a different kind of 'hook' to help engage their students."
Intelitek has partnered with Afinia to offer a complete classroom solution, designed for middle/high school students. "Our complete classroom solution is comprised of four key parts: design curriculum, 3D printing curriculum, 3D printers, and the accompanying software," Stephens explains. "Students begin this program by learning about the role of an industrial designer and the work they typically perform. This course also focuses on teaching students about technical drawing techniques and how products are made. After completion, students move into our 3D printing curriculum which introduces students to the theories and concepts of 3D printing, while also teaching them everything they need to know to begin printing 3D parts on their own." This course was designed to be used with the Afinia H480 and H800 3D printers and software, which are all a perfect fit for the educational market. "They're simple and easy-to-use, they arrive at your door fully-assembled and, most importantly, they're reliable," says Stephens.
If you're interested in making 3D printers a part of your classroom, please visit Intelitek's 3D printer page for more information, or contact Intelitek Sales directly at Sales@intelitek.com.