Travis Lape is the technology integrationist at Harrisburg South Middle School. Lape strongly advocates using new technology to enhance and engage students in learning. His goal is to create learning experiences that empower and equip students with necessary skills to effectively produce and consume content across multiple media platforms.
Using Tech to the Fullest
As the Technology Integrationist at Harrisburg South Middle School (HSMS), Lape works mainly with teachers to integrate technology into the classroom. "I team up with teachers to collaborate on lesson plans, ensuring technology is being used in a way that provides teachers and students its maximum benefits. I also brainstormed with the media specialist to create a makerspace in the library that encourages innovation."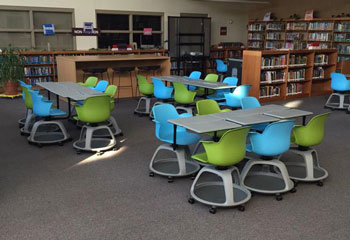 Expanding on the creation of a makerspace, Lape explains, "The idea is that in education, we need different spaces for kids. So our makerspace has 3 distinct areas: "We have, I own," "We own, I share," and "We Share." We also have the "Think Tank" which has whiteboard paint on one wall so students can go through the design and thinking model."
"The makerspace includes a variety of make kits (like brush bots), snap circuits, take-apart tech, a Spiro, legos, etc. Students can participate in things like bookmark making, or even bubble gum creation!" Lape adds, "The gum tastes good for about 15 chews and then it becomes rock solid, without flavor. But students love it, and it gets them creating and making."
Recalling the Not So Good Old Days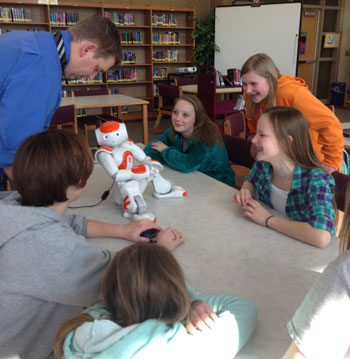 Before becoming a technology integrationist, Lape taught 4th grade. "I loved teaching, but it was nothing like teaching is today," says Lape. "We didn't have this cool technology. Now, I get to team up with teachers to introduce them to something new. I've worked with them on infographics, creating green screen videos, working with 3D printers, and lots of other fun projects that just a few years ago, were almost unheard of in schools."
Lape continues to explain how technology integration has impacted schools. "Before, the teacher was still the holder of information. If I didn't know an answer to a student's question, I looked it up and got back to them the next day. Now, students can go find answers on Google. The type of student in the classroom today is so different because of their ability to find what they need. We aren't the holders of all information anymore. We have to continue to show students how to use these tools appropriately and use them to enhance what they are already doing in the classroom. It's another tool in their arsenal."
"We also need to take teaching to another level of making an experience. One where kids can relate what they are doing in school to the real world," explains Lape. "With the new technology in our classrooms, we can do that. We can bring in a doctor as a guest speaker via Skype, or Google Hangouts. We can provide great, real-life experiences. We have better tools to show students how they can apply what they learn in school to their future."
Being Introduced to 3D Printing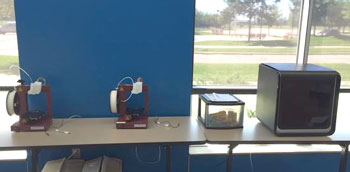 Lape did not have experience with 3D printers before they arrived at Harrisburg. "I had only seen them at conferences," Lape explains. "By chance, I came across the Afinia brand. A PITSCO representative introduced me to the Afinia 3D printer and gave us the names of a couple schools to talk to. They all loved the machine, and all of the reviews were positive… and it has held true. I take the Afinia H480 to every presentation I do, and I have it set up and working within 10 minutes. I've never had to use support, and overall, it's been great! I use borosilicate glass, which is awesome, and keeps the plate heated really well, making sure prints stay adhered while printing."
How Students React
"Technology is not a shell shock to students today. They were born with technology available," says Lape. "However, the 3D printer is still new and exciting. When we brought it in, kids were fascinated – mind-blown – seeing a project printed in 3D. They think, 'I can design a boat or make a car, and a little box is going to print it!'"
"3D printing is on the new side of technology, and the power of allowing kids to design something and watch it print is an incredible tool." Lape clarifies that this gives students' designs more value. "They know that if they design something, it is purposeful and will show what they've learned – and they make it come to life. They realize there is a lot of measurement necessary to make something function, to fit it onto the build platform, and to make sure the support material is set correctly. Then they get to print it, and they have the ability to take something with them almost immediately."
The Genius Hour
Following a model used by Google, Harrisburg's 8th grade teachers dedicate 20% of the week to what they call "Genius Hour." This means they allow 20% of the week for students to do something they are passionate about. "Some students are passionate about designing cars, so during their Genius Hour time, they designed cars in Tinkercad and we 3D printed them. Other students have made cell phone cases, keychains, or jewelry," tells Lape. "As we continue to get more technology and software, the opportunities for the students to explore during Genius Hour will continue to grow. We are excited to see all the things they come up with."
Digital Badges
Lape has also partnered with Laura Flemming, a New Jersey educator, to use technology to enhance teacher's learning. "Laura helped me to create a Digital Badges program, where I curate learning videos so teachers from anywhere can create an account, log in, and learn about whatever interests them. There are lots of how-to videos on different things, and when the teachers take and complete the course, they get the badge for that course. It's a great way to encourage continual learning, and it's free!"
F.A.I.L.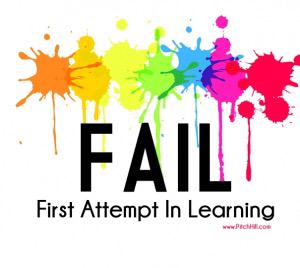 "I am excited that we have 3 Afinia 3D printers that we can use with students. They are great machines on so many levels. The 3D printers give us more opportunity to help students understand that "FAIL = first attempt in learning." In our makerspace, we want them to fail – because we want them to learn from that failure, and to continue to create and innovate, and test their ideas."
If you'd like a tour of Harrisburg's makerspace, you can use the periscope app to follow #periscopeout on Tuesday, September 15 at 4pm CDT.
If you're not able to follow #periscopeout, you can see a quick view of the school's makerspace in their YouTube video, below.