Rosalee Ramer started driving monster trucks professionally at age 14. Now, at age 19, she is pursuing her Mechanical Engineering degree at Georgia Tech, and hopes to use it to improve her monster truck's capabilities.
---
Rosalee Ramer is a lot of things: a daughter, friend, college student, and role model, who holds the title as the youngest professional female monster truck driver in the world.
Ramer knew from a young age that monster trucks were her passion. "My dad has raced my entire life, so I've been around the trucks as long as I can remember, helping out in any way I could." Although Ramer recalls helping out with the trucks from about the age of three, it wasn't until several years later that she got a true taste of their power from behind the steering wheel.
"The first time I drove a monster truck, I was 11," she explains. "My dad was in a show finale, so his truck was on the track at the end of the event. I got to drive it off. I remember it clearly. It was so much fun, and all I did was 'putt-putt!'"
But with a truck that has 1,300-1,500 horsepower, even a little "putt-putt" requires a lot of responsibility.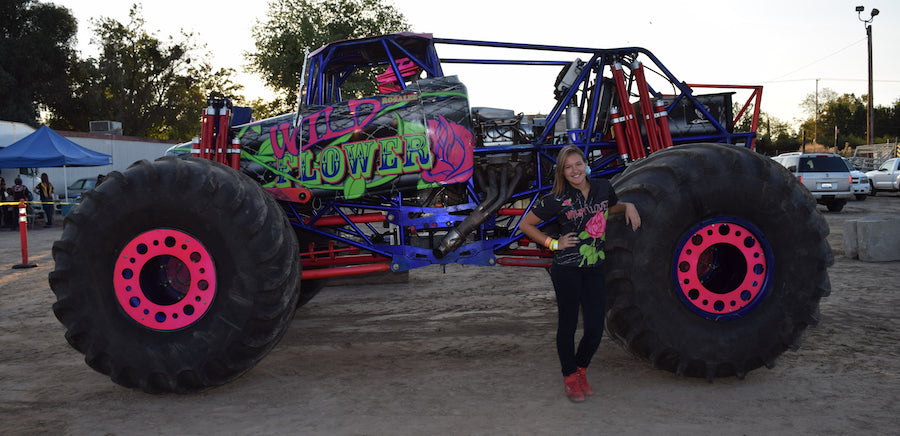 Prioritizing Her Passion
Growing up, Ramer explored a variety of activities. She has played piano, been in theater, and tried gymnastics and volleyball. "Only piano and monster trucks stuck," she said. "The other things cut into my time on the road with the trucks, and I didn't want that."
Ramer recalls her overwhelming schedule when she tried to juggle so many activities: "I worked all day Saturday on trucks, and then drove 6-7 hours home so I could make it to my rehearsal on Sunday mornings. Something had to change. I don't put half of myself into something… I put my all into it."
Needless to say, she prioritized monster trucks.
Academics Come First
Although monster trucks are Ramer's priority when it comes to extracurriculars, they don't detract from her education. "School has always been #1. In order to drive monster trucks through school, straight A's were a requirement," Ramer explains.
The strong focus on education can partly be attributed to Ramer being the first member of her family to go to college. "I was the 'smartie' who liked school," laughs Ramer, "so people naturally assumed I would go to school for a stereotypically 'smart' degree, like a medical doctor or lawyer."
The Drive to be a 'Maker' with Mechanical Engineering
It wasn't until one day when Ramer was working on her dad's truck that a fan asked if she was a mechanic, and it hit her: "I wanted to get a degree in mechanical engineering. The thought never crossed my mind that I could go to college for that. I love using my hands to build things, and I'm creative."
"The idea made everything fall into place," Ramer continues, "and I realized being a doctor or lawyer weren't the only two options." Ramer is now a Sophomore at Georgia Tech, which she chose based on it's great school ranking, the cultural feel, and her access to the school's 'Invention Studio.'"
The Invention Studio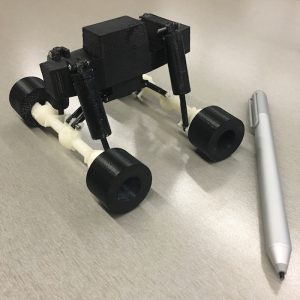 "Georgia Tech has a great makerspace with a 3D printing room, machine shop, laser printers, waterjet, and plenty of other equipment that they make available to students," says Ramer, who explains that the 3D printing room includes about 25 3D printers, about 15 of which are Afinia brand.
Ramer's first time using the 3D printer was for her mechanical engineering class. "We were instructed to create two pieces that somehow fit together. I wanted to make a mini monster truck with working suspension. The teacher warned me after looking at my design that I'd be spending a lot of time 3D printing," tells Ramer, "but I thought 'it's my time, it's what I want to do, I'm going to make it work'… and I did."
Ramer's teacher was so impressed with her creation, she wanted to show it off to the class. "The design even used springs from a mechanical pencil for the shocks," she says.
Benefits of 3D Printing
Ramer is very thankful for her access to 3D printing at Georgia Tech. "I know a lot about manufacturing, since I'm close to the engineers for the monster trucks," Ramer says, "but as a student coming in, using 3D printers was a big part of learning about manufacturing."
"They are easy to use, and help teach what the manufacturing process entails. The printers show that even if things are perfect on the computer, it might not come out that way on the 3D printer or CNC machine."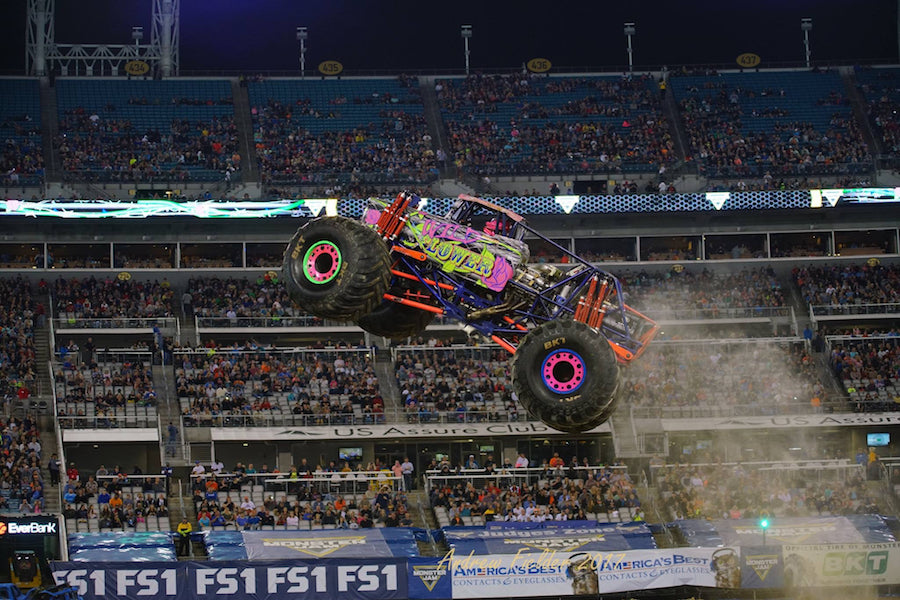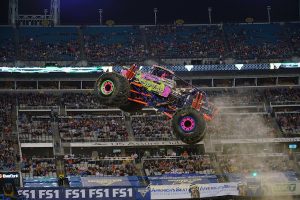 Moving Forward
Ramer is looking forward to attaining her degree, and using her knowledge, along with 3D printers, to improve the driving experience. "There's so much possibility with 3D printing… building something from the ground up, there's no limits on what you can make. I'm really excited to continue using it to find new ways to improve my monster truck's center of gravity."
Being in the spotlight, Ramer also plans to continue setting a good example for young girls. "One thing I love about monster trucks is how we have so much access to our fans. We get to interact with them every weekend, and the ability to interact with people like that is an amazing feeling," tells Ramer. "Little girls come up to me and say they want to be like me. They see that I'm dedicated to both school and my sport, and that they can go hand-in-hand."