Jeff Tucker is an RC hobbyist and 3D printer enthusiast living in California. He creates bodies and accessories for RC cars using his Afinia H479 3D printer and sells them through his website, www.inventeo3d.com.
---
Ready, Set, Action
"I began 3D printing about 3 years ago, when I was creating action figures. They were very popular around that time, and I wanted something to print customized heads for the figures. I'd print celebrities or characters, like Arnold Schwarzenegger from the Predator movies."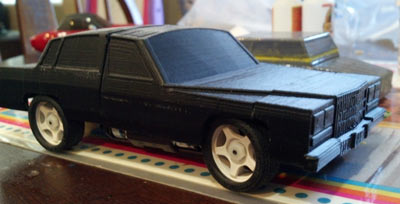 "Unfortunately, I didn't have the Afinia 3D Printer at that time, and the one I was using just didn't have the high quality that I needed. Between that and the saturation of the action figure market, I decided to look into other hobbies, which is when I really got into RC cars, something that my son and I really enjoy. RC cars come with a pretty standard body, but I wanted to give them an upgrade, so I began 3D printing different versions. It was around this time that I knew that I needed to upgrade my 3D printer, too."
Upgrading to the Afinia
"I wanted to make sure I found a great printer, so I did a lot of reading and researching. I saw that MAKE Magazine named the Afinia "Best Overall Experience," "Easiest to Setup," and "Easiest to Use." I watched videos on YouTube, too, and ended up liking the design and what other people were printing. It looked easy and affordable, and seemed to fit my needs perfectly. I was sold."
"My first reaction when I got the printer was surprise. It was amazing how user-friendly the software was. It was intuitive, and easy to set up. It just worked. I got it dialed-in where I could press play and walk away and only check on it periodically. The next morning I'd have a print. I also loved that it's made of metal and not weaker materials like other printers. In fact, I'm still using the perf boards that came with the Afinia 3D printer when I purchased it in 2013."
3D Printing is Great for Kids
"I have a son, and I enjoy teaching him about the software, CAD filing, and what types of things can be 3D printed. We went on Thingiverse and found things he likes. We printed a mummy in a tomb in one color, then he wanted it in all the different colors. I have a daughter, too, and she chose an Olaf figure to print. She also loves to draw, so we use Tinkercad to make her drawings into 3D figures. She's only 5, but she loves it."
When Passion Meets 3D Printing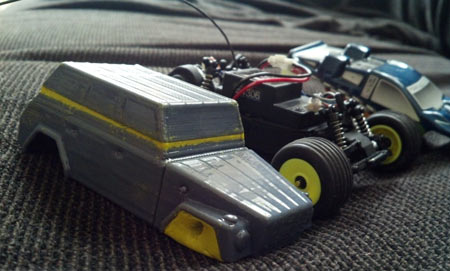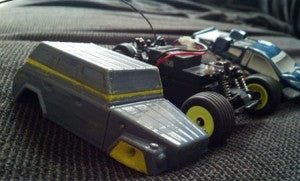 "I started a company, Inventeo3D, about four months ago, that offers custom RC car bodies and accessories, so my printer is mostly used for that. Right now, I print them at about 1/25th scale. They are about 4-5" long and about 2.5-3" wide. RC cars come with regular bodies, but I wanted them to be more creative, so I hired some artists to create some that you'd never see on the market. They look awesome. I also print some busts for the drivers in other scales. You can take the bust, screw him down into the car, and it looks like he is really behind the wheel."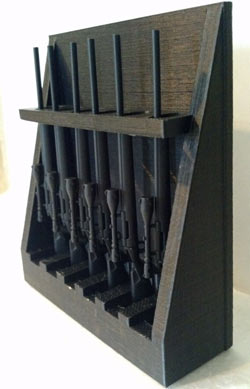 "I've been getting great reactions from the RC industry when I show off what I can make with the 3D printer. Typical responses I get to the prints are "Oh man, that's so cool!" It is really a wow-factor thing for lots of people. There is quite a bit of potential, and it is exciting, both to me and to others. There's the possibility that I'll start printing pieces for RC dioramas, too, like a miniature tool chest and tools, which are quite popular. Just check in on my website now and then and you'll be seeing new things pop up!"
How Afinia 3D Printers Compare
"I do have a second printer of a different brand that I bought to print larger car bodies. I'd like to print one that is about 30" in length, but it isn't going well. This other printer keeps clogging and jamming. I've been able to find some forums online, so at least I have found some support, but it is still really problematic when you try to print something for 17 hours and it fails. Filament isn't cheap, and that's wasted time that I can't get back. I've gotten a few decent prints from it, but every 3rd or 4th one fails. It struggles with inconsistent layers and pressure issues…. It can just be very frustrating when I want to be 3D printing and it is down for maintenance.
I haven't had those kinds of issues with the Afinia. The H479 is a work horse with minimal to no complications. I have received several comments from people who can't believe the objects that I have printed with the H479. I am impressed by its technology, flow rate, and dependability. I'm really looking forward to the H800. If it's as reliable as the H479 and H480, then I'm getting one of those too."
You can visit Tucker's website at www.inventeo3d.com, or view his Google+ page here.