John Richardson and Claire Luikart are the IT Implementation Director and Special Projects Manager (respectively) at St. Joseph's Academy in Baton Rouge, LA. Both influenced the school's decision on which 3D printers are more beneficial for students' learning and engagement.
Doing Their Research
"We got our first Afinia H479 3D printer in 2011, because it was our students' top choice. They researched 3D printers, and in the process, improved their technical understanding and communication skills," explains Richardson. Luikart adds, "We're glad they recommended it! We've been very happy with the Afinia, since the beginning. We've also acquired the newer H480 with grant funds. They're awesome – and students love the ease of leveling and calibration. The girls are at the point where they understand the printers and the technology, so it is nice to be able to focus on printing without having to waste time manually adjusting things."
Luikart and Richardson both favor the Afinia 3D Printer, but have separate reasons as to why. "John and I look at the value of the 3D printer on different levels," Luikart points out. "I see it from a teacher's perspective, and he sees it from a director's perspective. I see how effective it is in the classroom and how the girls work well with it, and he sees the amazing print quality to-cost-value of it, and how easy it is for employees to learn and use. Whenever someone asks us for a recommendation, our first answer is always the Afinia."
Since St. Joseph's Academy has multiple brands of printers, the Afinia is saved for "higher-quality" projects. "The amazingly fine quality of the Afinia allows us to give prints the finished look of an item you could buy at a store. Because of this, we use it for certain art projects, like printing things that will be sent to museums, or printing jewelry," Luikart explains.
Well-Rounded, in Technology and Culture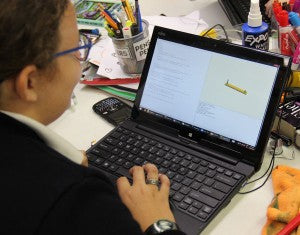 "The girls didn't have much 3D printing experience when we got our first Afinia. It was very much the 'new, cool thing' that was happening," Richardson says. "Now, we have a number of 3D printer brands represented at our school. Some we have to give the girls experience with a wide range of printers and apply what they've learned to all types of models they may encounter."
"One of the main reason we got into 3D printing, initially, was our beyond boarders trips," revealed Richardson. "We build technology labs in places like South Africa, Puerto Rico, and Nicaragua. The places we work are places that don't have reliable electricity, let alone technology. There isn't a hardware store or parts shop. Sometimes, we would need a certain part and have no place to get it, so we print one instead. We just send the specifications and dimensions to some students, they create the file, and then we can print it as we need it.
3D Printing Paves the Way
"Although we've been a 1:1 high school since 1999 (meaning every student and faculty/staff member has a tablet computer), there's been a surge in Technology Class enrollment since we received the 3D printers." Richardson continues, "In my 17 years teaching at an all-girls school, this is the first application that has inspired them to get excited about coding and computer programming in a way that they want to – and ARE – learning it. It is the answer we've looked for to inspire young women to get involved in coding and engineering."
The Power of 3D Prints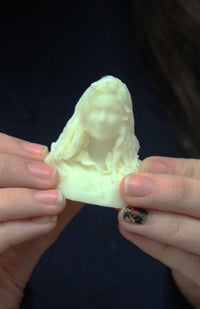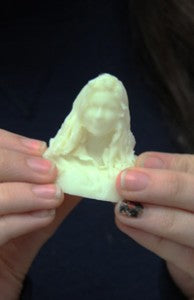 Richardson and Luikart also use the printers to enhance student creativity. "We don't give too much structure or direction on what the students should print. We want to see where their mind goes. Our job is to teach them how to use the 3D printer, and then let their creativity and innovation reign. They've printed parts of a 3D dress, musical instrument parts, 3D scans of students, a scale model of campus… the possibilities for them are endless. Everyone loves it. Whenever parents and grandparents come in, they say they wish they could go back to high school!"
Luikart believes 3D printing is so effective, for a reason. "I think it is incredibly helpful to have a tangible end result. Something you can hold in your hand. The girls learn many different C-languages to program and build real 3D models as an end result. It's very powerful! They've created things from wheels for mousetrap cars, to phone cases and jewelry, to customized USB port covers. The USB port covers were especially practical, and cost effective. They usually cost around $80 to replace, but now the girls design them and print them out."
The Afinia Experience
"Our experience with the Afinia printers has been fantastic. The auto-level feature for the H480 has definitely improved the experience, too. The real beauty is the ease of use, and how simple it is for the girls to service and understand the printers," explains Luikart. "For example, a student emailed me while I was at a conference saying it wouldn't work. I hadn't even had time to reply when I got the second email saying she had an idea, followed shortly by another email explaining that the first idea didn't work, but she was going to try another solution, and a final email saying it worked. She was able to repair the printer without me being there."
Richardson has had people approach him, asking him for a recommendation on 3D printers. "We've bought a lot of different models and when I'm asked what I like the best – no question, it is the Afinia. There are fewer problems, Claire is happier using it every day, and it's proven to be a great unit."
Teaching Self-Reliance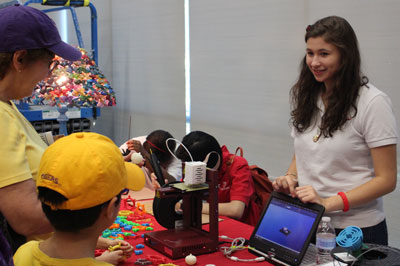 Using 3D printers allows St. Joseph to teach additional important lessons: self-reliance and independence. "I have the "Try three before you ask me" rule. You need to try to solve it three different ways on your own before you can ask for my help. I've found that it leads to much more sophisticated collaboration," Richardson says. "And some of the other printers are fickle mistresses!" Luikart adds, laughing. "The girls are becoming experts on many different 3D printer brands."
St. Joseph's goes beyond the students' self-reliance. Their technology department as a whole is very much self-reliant. "We've had a student-run help desk since about 2000. It works to instill the culture of "fix it yourself," and teaches the girls independence and a willingness to try things. It's been a huge help as we've branched into new technology. The girls don't hesitate to use it because they know they can fix it." Luikart continues, "I started as a student technician at 15. We continue to encourage students to work as technician and to "own" technology and learn it beyond the basics, to be able to understand the system, and know what makes it tick."
Richardson clarifies, "The girls have their industry A+ certification and vendor certification for a variety of different computer brands and they work before and after school, getting paid to do diagnostics and repairs. They manage all 1,320 units, so any time there is a warranty issue with one of our computers – which is frequent at a high school – the service is performed by our students.
To learn more about St. Joseph's Academy, visit their website at https://sjabr.org/.