David Brannen is the Woodshop and Manufacturing teacher at Grants Pass High School, in Grants Pass, Oregon. Brannen has 11 years of teaching experience and over 25 years of experience in furniture and cabinetry creation.
---
Diving Into 3D
"I had absolutely no experience with 3D printers before getting one in my classroom. Honestly, I didn't even know what it was or what it did when I found out I was receiving one through the Perkins Grant Program. I went to a mandatory workshop thinking it would just be a neat toy.
By the end of the day, I was going crazy and couldn't wait to give it to the students. Once it was in the classroom we were using it constantly so they gave us another. We just kept printing and printing, and are now lucky enough to have four 3D printers in our room."
"I have a number of students who started taking my classes as Freshman and have taken them all 4 years. They teach me just as much about the printers as I teach them. If they encounter a problem, they can usually come up with a solution. If they can't, we sit down and work together to find one. If I'm not learning something new on a daily basis I get bored. So this is nice for me, too!"
Students Being Teachers
"Most of the students using the 3D printers are Sophomores through Seniors. Some second-semester Freshmen who have completed their safety course use them, as well. It works out great, because often, I don't have the extra time to teach 3D printing outside of class, so 2-3 students who are mechanically-inclined, young tinkerers, will show newer students the basics. They'll explain the temperature requirements, materials they can use, etc."
"I have office hours, and time when we meet as a group, but whenever you can have one kid teach another, that's gold. When you teach something, you learn so much more about it. I've learned more in my teaching career than I ever imagined I would."
Get Real!
"Unfortunately, we lost a long-standing ceramics course at our school, which is one reason I've been adamant about keeping up with manufacturing technology – I don't want to see them cut us, too. These courses are so important. They require hands-on application of knowledge. It isn't a written test. It's practical. A lot of people don't realize that kids who struggle with these classes are mostly AP and Honor students. They can take tests, but creating something with their hands is hard for them. I've worked in the industry long enough to be able to tell the difference between engineers with, and without, hands-on experience. Those who have done it understand the difficulties they might come across. It's important that we give our students as much real-world experience as possible to prepare them for their futures."
"When we can make our programs more real-world and fluid, providing a broader variety of experience, we can help students leave high school saying, 'I know what I want to do!' We are starting a program with the Health Sciences department, in concert with drafting class.
Students in health sciences design special-use prosthetics for Barbie dolls, and then students in the drafting class render the designs in CAD software, print it, and send it back to the health science students, who make changes and return it to drafting students. It is amazing how much real-world application you can do with these 3D printers!"
"We still have all of the traditional tools you'd use in woodworking and manufacturing, but we are incorporating as much modern technology as possible. I think that being well-rounded with all the tools is key to student success."
Student Innovations
"The best prints are the outcome of students recognizing a problem, designing a solution, printing it, and starting the process all over again. When a kid prints out something from a design they've found, it isn't as impressive, but when a kid sees a problem or an issue and tackles it, you can tell they get excited about it.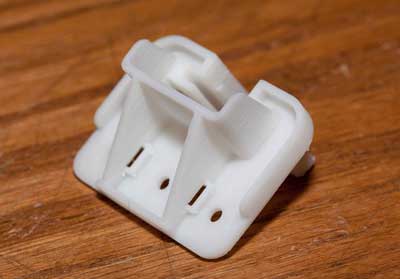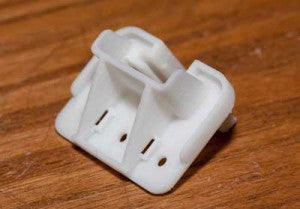 I've had two students so far that most instructors would think were going nowhere. Now, they are likely to enter an engineering program at one of our local universities. Kids are tech savvy these days, whether they realize it or not. They know more about what's going on they – or others – think."
Brannen's students really do seem to be ahead of the curve with technology and innovation. "One student had a convertible and some clips that help in the retraction of the top were breaking so he started designing his own. He went through a couple iterations and then came upon one that really worked. Now he is selling them online! Another kid is designing his own line of ergonomic hand tools for use in tight spaces. He 3D prints the prototypes and then does the casting in metal shop. Students are incorporating printing into the furniture. For example, they built a stand with swinging arms to go by a hot tub, which includes cup holders. They are coming up with all kinds of things. It's amazing."
Opening Doors
3D printing is opening doors for Brannen – literally. "For the first time in 11 years, the entire school board walked through my door, into my classroom, and listened to me talk about these technologies. I don't think I've ever seen one board member in my classroom before that. 3D printing impresses the hell out of students, too, and gets them excited and into the classroom. We have more access to technology at this school than most other schools in the state, and our goal is to be the best tech school in the state. 3D printing is helping us do that, and is drawing kids into schools, keeping them there, and getting them to graduate. It can also help us incorporate different subjects into each other, making programs more fluid, and allowing students to move around and get a wider educational experience."
"Right now, I'm trying to convince the science department to get a 3D printer. I think it could really save them a lot of money, in the long run. We can make things for their labs, like test tube stands, separators, etc., that are rather costly to buy. We can print foot bones, hand bones, organs, or skulls. We can print all sorts of things. We printed a functional microscope for about $3.50."
"I hope that teachers will visit my classroom, try it themselves, and see how it can work in their classrooms. It's opening a lot of doors for teachers and for students, allowing schools to keep programs that they would otherwise lose. Our school has even opened a series of computer programming courses… I'm not sure if that would have happened if we hadn't brought technology like 3D printing here. 3D printing pushes kids to learn more about design and peaks their interest in drafting courses. It's neat. It's driving our program in a lot of different directions, which is great. There are students signing up for drafting and CAD classes that NEVER would have done it, had they not had a 3D printer experience."
The Afinia? Flawless!
"My Afinia 3D Printer has been flawless. If you need something printed correctly, without fail, the Afinia is right for that. It would be great for science and theater. The only drawback is the smaller size of build envelope, but sometimes you can work around that. It's also one of my favorite printers because of the affordable consumables. Other printers can run schools into the ground by charging a lot for things like filament. When you get grant money, it can only be used to buy the machine and nothing else. So it is important that Afinia sells their materials at reasonable prices."
"We print constantly. I've had prints running 36 hours before. When school is in session, they are running the entire time. I come in the next day to pull prints that have been going overnight and starting new ones. It's amazing – we have printed so many things. I'd like to have another dozen printers in here so I could teach a course solely based in 3D printing."
"We probably have at least 1,000 hours of printing on the Afinia. It's a fantastic little machine: it doesn't take up too much space, and even though it is often covered with dust from woodworking, it still runs flawlessly. The one time we encountered a small issue, the Afinia customer support team provided awesome service. They got the new part back to us quickly and followed up to make sure it was working great. There is no way they can know how nice it was to get machine running again so quickly with so little hassle. Kids hound you to see if it is working yet."
Tip to Teachers: Embrace Technology
"The bottom line is that the kids love it. They are learning a ton from these 3D printers. They are spending time researching, looking up videos on how to run them, going through tutorials on design, and teaching each other. It's caught the eye of the board, of parents, and of supporters. It's bringing us a lot of positive press in the community. If I could get teachers to realize one thing, it would be to embrace technology in the classroom no matter what you teach, otherwise it will be more difficult for our kids to succeed in the future."
To view Brannen's class blog, visit http://www.3dprintingatgphs.blogspot.com/.