David "DC" Cardarelli is the Garage Manager at the EI Garage, a startup space at NC State University's Entrepreneurship Initiative. This campus-wide program supports NC State entrepreneurship and innovation by providing students with intellectual and technological resources to foster their ideas and business.
Not Your Average Campus Makerspace
Makerspaces are becoming more common in communities and on campuses around the globe. The EI Garage at NC State University, however, sets itself apart. "We are a venture creation and prototyping space," explains DC, Garage Manager. "It serves as a hub to come together and explore entrepreneurial ideas and interests. That certainly involves some aspects that are typical of makerspaces—like having 3D printers and other prototyping equipment available—but we are very proud to offer a much more business-creation focused space," he adds.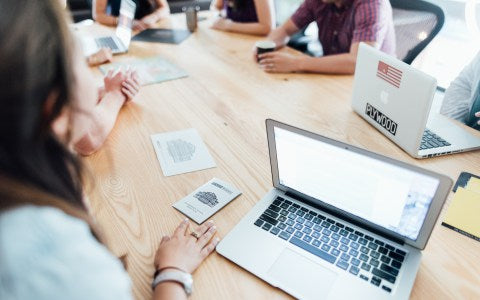 DC expands on the Entrepreneurship Initiative's concept of a business-creation space: it's a space with not only equipment to help with entrepreneurship and ideas, but with staff that has been specifically hired for what they bring to the table. "All of the staff has some very unique background in education, technical education, and business experience," clarifies DC, "and that makes a big difference. So we fit into a new, weird trend… we aren't a startup accelerator, but we aren't a makerspace where students just show up and make. They need to have some sort of entrepreneurial reason to be there, and they need to apply for a membership."
Accessing the Garage
The EI Garage requires a membership mainly due to it being an Intellectual Property-Free Zone: the students own 100% of what is created there. Students are required to have a clean record in terms of good conduct and academic integrity to be granted membership.
Members also have to complete training, developed by DC. "There is a lot of dangerous equipment in the EI Garage. We make sure the training prepares the students to use the space efficiently and safely," DC clarifies.
Entrepreneurship Abounding
"I love seeing the perspective the students bring to ideas," remarks DC. "The way students use the Garage space is quite broad. Some come here because they have a specific need for prototyping, and others because they are interested in entrepreneurship or learning technologies that will enable them to create. Ultimately, I think most of them are here because they want to be on the front lines of entrepreneurship, in whatever sense they've defined 'entrepreneurship'."
DC explains that initially, about 60% of the students who come to the garage do so because of an entrepreneurial idea, and 40% to use the equipment offered in the space. "Ultimately, though, it evens out," he says. "Students who, initially, came for entrepreneurial ideas  see the benefit of using the equipment, and the people who came for the equipment then see the value the staff and the ambiance add, and ultimately they try to get more involved."
Afinia 3D Printers in the EI Garage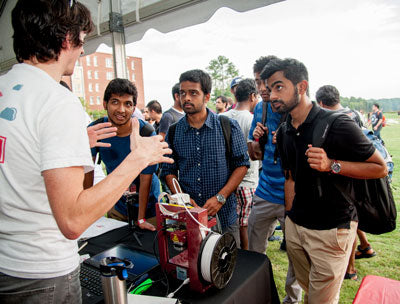 The Afinia H480 is not new to the EI Garage. "We've had it for about 4 or 5 years," says DC. "It has certainly been well-loved! It's a tank… even with everything the students have put it through over the years, it has held up. We even had it outdoors at an event last year, and it was printing smooth as butter in 120 degree heat, in the middle of a field. It's also what we use as our introductory 3D printer because it is so easy to use."
The Afinia H800 3D Printer is a newer addition to the space, added at the end of spring semester, 2016. "When we were looking for another printer, the H800 was essentially better in every respect compared to our runner up choice… but the 1.75mm filament is particularly what sold us. That's the size filament we are already using with our other printers, and what we wanted to continue to use," explains DC.
Using the Garage & Afinia 3D Printers
"Our students use the 3D printers for all sorts of stuff: but specifically, for their business-related prints, they prototype products to demo to investors," says DC. "We have a Fellows Program, and many of our Fellows have made headlines with their innovations. One of our first Fellows created 'Undercover Colors,' which got a lot of attention. They are creating a nail polish that changes color when it comes in contact with common date rape drugs.
"Our second Fellow, who has used the Garage, is Leigh-Kathryn Bonner, who started 'Bee Downtown.' It's a company focused on '[building] healthy, sustainable, honey bee communities around the world… [and] teaching the public about the importance of agriculture and food production.' Ms. Bonner is a 4th generation beekeeper, and she brings a lot of passion to her company."
DC explains that students use the 3D printers to varying extents, depending on their needs, and says the most current Fellow, Trakex, has used the 3D printers more than past Fellows. "Essentially, they use 3D printing for some demo components in their product," DC explains. Their product is an in-motion cargo dimensioning solution that could potentially revolutionize the trucking industry. "They've really taken off, and have been selected to participate in the Y Combinator Fellowship to help them further their startup," adds DC.
Function and Support
Overall, the Afinia 3D printers have been a successful addition to the EI Garage. "The Afinia H480 has been incredibly reliable at the hands of college kids. I have reached out to the Afinia support team a couple times, and it's always been a quick and successful experience. It didn't make me want to rip my hair out!" exclaims DC.
Although some organizations are looking for 3D printers with larger build size, DC prefers the modest build area of the Afinia H480. "It's great to have a quick go-to printer that isn't going to be taken up by someone trying to complete a 40-hour print," he says.
"For items that do require a slightly bigger build volume, the students are able to use the Afinia H800."
"The 3D printers are also great to have at Entrepalooza (our entrepreneurship and innovation festival). Everybody is really interested in the technology. And the H480 did such a stellar job in the high heat last year, we're planning on having it out again this year to draw in the crowd, says DC, adding, "Anyone who is in the area and interested in attending can come. It's free, and sure to be a great time! Entrepalooza 2016 will be September 15 from 5:00-8:30pm at The Oval on campus."
For more details about the EI Garage and their events, including Entrepalooza, you can visit the NC State University Entrepreneurship Initiative website.