Mark Willis is the Tech Ed/Pre Engineering Teacher at Margaret Bell Middle School in Waynesburg, PA.
In the Beginning
Willis had never attempted 3D printing before getting the Afinia 3D Printer. "When it arrived, I just started printing things, learning from trial and error.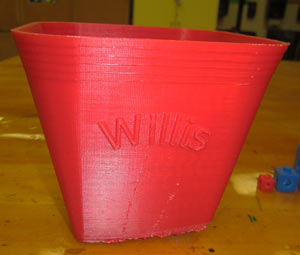 The printer was pretty easy to use. Afinia also sent their Vice President, John Westrum, to talk with teachers, walk them through how to use the machine, and demonstrate tricks for printing. It was a great gesture and I found it to be very helpful."
The manual Afinia provides is also thorough. Between that, and John's instruction, I felt very comfortable using the Afinia. Eventually, I wanted to make something that really showed the printer's capacity, so I designed what was essentially a large bucket that spanned the majority of the build area. It was a great print to show the approximate maximum size the printer can handle."
Enhanced Education & Learning
"I share the Afinia printer with another teacher, and we've had it for about a year. The printer has enhanced our classroom in a number of ways. Primarily, it helps students with the design process and computer drawing. Sometimes it is difficult for them to make connections between what they see on the screen, and what it will look like in real life. 3D printing helps them visualize it.
"We use AutoDesk's Inventor. Inventor is a powerful program with a slight learning curve, but once students pick it up, their imagination takes off and they come up with tons of designs. Some of the designs have been pretty incredible."
Culminating Classroom Creations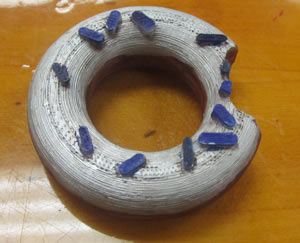 "The class would definitely be missing something without the 3D printer. It has played a huge role in having a culminating project. The students spend hours designing and with the 3D printer, it provides a finished project. This is fantastic: not only is it a great for showing mom and dad what they are doing, but it allows students to have a better grasp on what their design looks like. They really like being able to see and touch what they've designed. Holding something provides a more complete sense of accomplishment than looking at what should be a 3D object on a 2D screen."
Engaging the Masses
"The Afinia 3D Printer is very engaging. The rest of the students who use the room throughout the day all want to watch the printer run. We also have students in study hall who ask us if they can use it. It's great to see them so interested in this technology.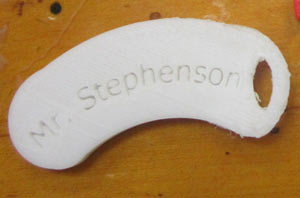 It's fun for them, and makes learning easier. Truth be told, even the other teachers and I love to watch it print!
"It is a fun motivator, too, which increases student engagement. I created a contest for the class recently. Everyone was instructed to design a key chain, and then the nine best key chains were edited to include the names of the school board members. Each member was given a key chain, and they loved it. It was a great way to show the board what is happening in class, and show off the technology the students are using!"
A Smooth Operation
"The Afinia software makes it really smooth to print the students' work. When the STL files download, the Afinia program opens up and automatically places them on the platform. Once in a while I have to rotate the file, but it is as easy as clicking a button. Right now, we just have the teachers setting up the printing, to make things more efficient.
"We've also increased efficiency by working out a system in which the students email us files, keeping them all in one place. Students save their designs with a description and color in the file name, making it easy for me to categorize the like-colored files and print them one after another. It eliminates the need to change filament between prints, and saves lots of time."
Projects
"Right now, it is mainly our 6th graders using the printer. The main project that we do is designing and printing key chains. It works out well, because the key chains only take an hour to print. It would be great to do larger projects, but 3D printing does take time. It would be great to get a second machine!
"We do have projects that don't incorporate 3D printing. For our skimmer project, students take a piece of single-ply cardboard, cut and shape it, and make it glide down hallway. We also make air cannons by adapting soda bottles to see how far they can shoot a wadded up paper towel. The students love doing hands-on activities, and it is really an effective way to teach them different concepts and skills. During the warmer semesters, students design their own insulated lunch box, and we place popsicles in them to see whose lasts the longest."
"For future projects, I'd really like to work with other classes. For example, 7th graders take an Automation and Robotics class, so it would be interesting to team up and make some parts they need for their projects. I think 3D printing has a lot of potential to get different classes and subjects working together."
Functionality
"For the most part, our printer has worked great! The issues we've encountered are either usually with the 3D software communicating with the printer, or human error. The Vice President, John, has been phenomenal with getting back to me and answering questions. Recently, I printed a part for my other class and it needed to be exactly the right size. I was having a difficult time with the file, so I emailed him. He returned my email promptly, not only answering my questions, but he had even corrected the files and attached them, so I was able to print them right away. The sizes were perfect!"