Gene Sherman, Founder/CEO of Vocademy, a makerspace open to all ages, seven days a week. Their focus is to close the skills-gap by teaching the most state-of-the-art manufacturing techniques and providing the community with access to over a quarter-million dollars worth of equipment.
---
Inspiration
"The Vocademy was a long time coming. I thought about it for at least a decade. It's 15,000 sq ft, which is much larger than the typical makerspace. To me, it still isn't big enough. I'd like the next one to be at least 25,000 sq ft."
"The biggest factor that inspired me to create the Vocademy was the demise of hands-on skills in this country. Many youth are in school for eight hours a day and then they just go home. When they are in class, they spend a lot of time taking notes, reading textbooks, or being tested. Shop classes that provided necessary hands-on experience are gradually being eliminated from schools. These classes were the place where many of us found our passion for making things."
"Instead of creating a 'minimal training, access only' makerspace, Vocademy was created to bring back a shop class atmosphere where people can learn as little or as much as they want about a variety of tools. We sell classes by the hour, and once people complete a certain amount of class time, they can start using machines by themselves. You can take the class knowledge and go to work on a machine, add the knowledge to your resume, or become a member and keep using our machine as often as you'd like."
"Right now, we have a dozen instructors. These are people with real-world skills in these industrial arts subjects. Unlike at universities or schools, we don't require them to have a teaching degree, a Ph. D, or be accredited. Part of my business model is that anyone can be a teacher. But it isn't easy to teach. I've found that the most important characteristics for an instructor to have are (technical, hands-on) skills, personality, and passion. We make sure our instructors have those."
Invitation to the White House
"The White House keeps hearing about Maker movement and Maker Faires. They are increasingly aware of the skills-gap. When I opened the Vocademy in October of 2013, I opened it with three priorities: stopping the demise of hands-on skills, bringing back pride in making things, and giving people access to tools and equipment that are unaffordable to most. These are the factors which influenced the Vocademy business model and sets it apart from other makerspaces across the country."
"About a month after opening, Congressman Mark Takano visited the Vocademy. He had no idea what a makerspace was, but once he found out about the maker movement, he dove in, creating a Maker Caucus to support the movement and makerspaces. In late February of 2014, the White House wanted to host their own Maker Faire and wanted to invite 100 standout people. When the White House looked for individuals to invite, including people from academia, business people, and makers, they looked to Congressmen for nominees. Of course Congressman Takano immediately chose Vocademy."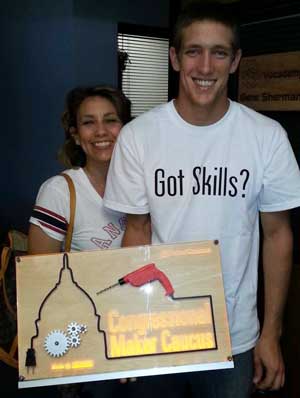 "At the White House Maker Faire, President Obama was saying things that I have said for two decades. I was sitting next to the administrator of NASA and we were both nodding our heads. Our government and the public are finally realizing that American Manufacturing and a skilled (and innovative) workforce is what will save us."
"Since the White House, it has been an amazing ride. We attended the first Riverside Maker's Roundtable, where I gave the keynote speech about the Vocademy. Everyone is realizing the importance of makerspaces, their benefit to the community, and that people need to get involved. Universities are not pumping out the kind of hands-on capable people that industry needs. Graduates are often paper smart, but not practical. We need to fix that and, just recently, we submitted a NSF grant proposal to send hundreds of UC Riverside engineering students to our makerspace! UCR is very forward thinking and sees the value we can add to a student's experience and education."
Vocademy Membership
"We aren't a trade school. We don't charge $20,000 to teach you about one thing and give you a piece of paper. We teach people how to design, how to create, and we give you the tools of creativity. Our makerspace is open to anyone: if you are 14 or older you can be a full member, and we have programs for kids as young as 8."
"Currently, our youngest member is 14-year-old boy and our oldest is 64-year-old woman. I stress to all members that machines don't care about your height, weight, gender, or nationality. I want members to feel empowered, so I am very focused on providing a safe and comfortable making environment. If someone is being dangerous or inconsiderate, they won't be allowed to stay. We have four main rules at the Vocademy: (1) Safety first and always, (2) Leave cleaner than found, (3) Ask if unsure or need help, and (4) Don't touch until taught."
More to Offer
"Our makerspace is much larger than what's typically available. We have a 15,000 ft2 space which includes: Invention Lab, Complete Woodshop, Machine Shop, Electronics Lab, Welding Shop, Fab & Sheet Metal Shop, Sewing and Crafts Shop, Computers and CAD/CAM Lab, a large project/garage unit, rentable offices, a lounge, lockers, classrooms, a collaboration room, and a gear store. The collaboration room has come in handy, as we have people coming together to help each other, which is incredible to see. Our hours are 11am to 11pm on weekdays. It seems late, but we do have to kick people out come closing time!"
"We also offer services to people who want to pay to have something created, but we usually convince them to learn themselves. Sometimes we do work for the local university. Even though they have their own 3D printers, it ends up being easier, faster and less expensive to work with the Vocademy."
"3D printing is one of the most popular areas we offer. Specifically, Cosplay is becoming very popular, and people love to get involved in costume and prop making. We have a Cosplay weekend workshops once a month. We provide other workshops for kids, too, that get them doing hands-on activities, like building robots, bridges, trains, and "Nerdy derby" cars. We are developing electronics and many other classes, too."
"Another thing that sets us apart is that every class is "make-and-take." It is amazingly empowering to have someone who hasn't touched a tool, and then a few hours later, they have something THEY created, which they can take with them. We work towards teaching people to design, because once you design your own creations, that's when you truly become a maker. Pressing a button to print something created by somebody else is not 'making.' It is basically like printing pictures of other people's kids."
The Afinia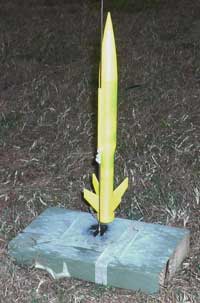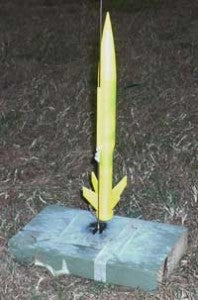 "When I was opening my space, I read reviews on all of the 3D printers. The Afinia 3D printer was the most turn-key machine, while the others were very finicky. I got in touch with our local Afinia representative, so I had local support who could teach instructors. Being a start up, I can't have problems with machines. Right now, the Vocademy has six Afinia 3D Printers and we use them a lot."
"People who use the Afinia printers are surprised at what they make. There are a lot of smiles after they print something! 3D printers are really expanding peoples' palette of paints that they can use to create something. They are surprised at how easy it is, once they are shown the 3D printing process. Plus, the Afinia machines get used a lot and hold up very well, which is critical for us."
Maker Faire
"We are very excited to be hosting a Maker Faire next month. The event is what we like to call a "show and tell," not show and sell. Every "maker exhibitor" will show or teach you how they made something. There will be lots of fun activities during the fair, too, like human foosball and the nerdy derby."
"Anyone is welcome to come and present. We want makers. If you enjoy making stuff and are in the Southern California area, we want you! This is the only Maker Faire in Southern California this year, so we hope that people we come and check us out. It is free for makers to exhibit, and there is a small fee for those who want to be a vendor. Anyone who is interested in getting involved, on any level, whether a sponsor, exhibitor, or vendor, they can go to our Inland Empire Mini Maker Faire webpage. Adults are only $12, kids only $8"
The Maker Faire will be held on Saturday, October 4th at 1635 Spruce Street, near the corner of Chicago Avenue, in Riverside, CA. If you can't make it to the event, keep up with them by following @IEMakerFaire or visiting their Facebook Page.