Maureen Borgeest is the Library Media Specialist and Debbie Kearney is the library assistant at Oliver W. Winch Middle School in South Glen Falls, NY. The middle school recently created a makerspace in the library, where they use the H800 3D printer.
Making the Makerspace a Reality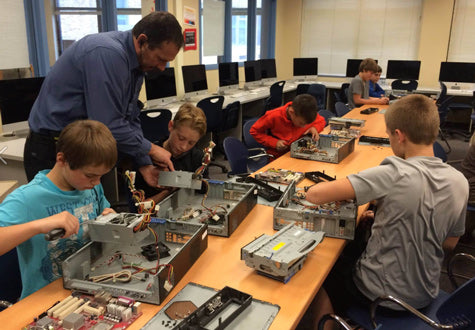 As the Library Media Specialist, Mrs. Borgeest is always looking for ways to improve students' access to technology and information. Thanks to her, along with the approval and resources of district officials, Oliver W. Winch Middle School opened their makerspace in October 2015.
"Makerspaces have been in existence in the library world for quite a few years, and I had read a lot about them both online and in professional journals," explains Mrs. Borgeest. "It's something I've thought is incredibly valuable and could see implementing in our own district, so I pitched the idea and our Administrator, Mr. Dawkins, and our Director of Technology, Mr. Spada. Both of them were very enthusiastic about it. They were incredible in making the makerspace a reality." [Read more…]