Ben Mininberg is an artistic action figure designer, who 3D prints his own creations. He recently upgraded to using the H800 3D printer.
---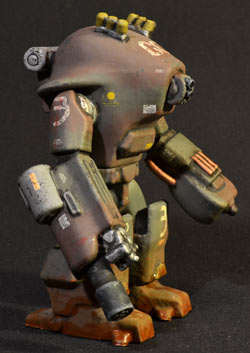 Mininberg has been artistically inclined for as long as he can remember. "I've loved robot characters, and a had a zillion Transformers," he explains. "I always had a creative hobby, whether it be making things, drawing, or being artistic in some other way. At one point, I started making lots of model kits, but later decided it was more fun to come up with my own characters. So now, I design almost all my own action figures, and print them in ABS plastic so they can have articulated, mobile joints."
"A lot of my design inspiration comes from 1980s Japanese design, especially the Japanese artists Kow Yokayama, Makoto Kobayashi, and Kunio Okawara," Mininberg says. "I really enjoy the model kits and toy aesthetics from this era. So I may take bits and pieces of these different inspirations and blend them with my own ideas to create action figures."
An Exceptionally Stellar 3D Print
Mininberg shares that one of the biggest hits that wasn't his own design was his rendition of the robot character "TARS" from Interstellar. "I hadn't seen anyone else make a figure of that robot, and the design fascinated me," says Mininberg.
"TARS is very unique, made of geometric shapes that can reconfigure. I actually thought, "I can make that!" when I first saw him in the movie. I stopped paying attention to the show and started sketching things out in my head. By the next morning, I had the sketch complete and started working on prints." Mininberg made a bigger model that allowed organic movement by using magnets, and then smaller ones that were articulated across the midsection.
3D Printing: From Ordering to Printing In-house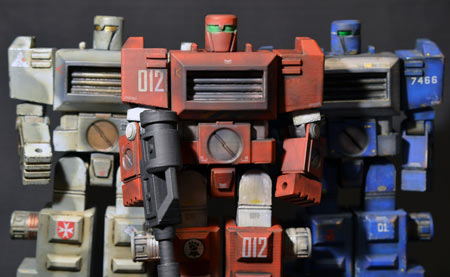 Before purchasing an Afinia 3D printer, Mininberg used a 3D printing company to complete his action figures. "Starting with the 3D printing company worked well. I had a sense of how what I did on the computer looked like, physically. But ordering prints gets expensive, and it is very time consuming."
"Having my own 3D printer is 100 times faster. I can print 3-4 iterations of something in a day, as opposed to waiting a month for one iteration. I can also print larger models, since using my own filament costs cents per print, while ordering from the company cost $30-50 per print. Having the 3D printer has really expanded my abilities, which were limited before."
Although Mininberg admits there is a certain novelty to watching 3D printing, his favorite part of the creation process is doing the acetone bath and painting. Once the toy is printed, it takes him about 2-3 weeks to have the final product completed.
Upgrading to the Afinia H800 3D Printer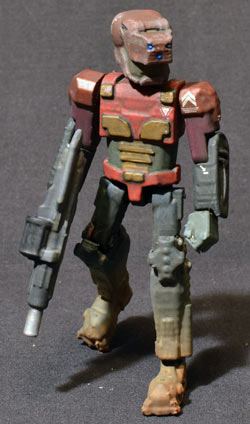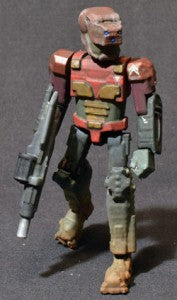 Mininberg was using a different brand's smaller-platform 3D printer before purchasing the Afinia H800. "The smaller platform 3D printer actually still works well, but I wanted something that had a bigger build platform, with a higher print quality. A few of my friends who also 3D print action figures have Afinia H480 3D printers, and they've raved about the reliability and tech support that Afinia offers. They persuaded me to get the Afinia H800, and when I started using it, the improvement in quality over my previous printer was immediately noticeable. The layer resolution was about half as much on the H800, giving it much smoother and finer detail."
"It's great to have high-quality resolution when the action figures aren't just for myself. I do make things that I will keep for my own collection, but I also sell my creations on Monster Kolor Shop. I've had a number of my action figures displayed across the country, and in Japan, at various galleries."
Other 3D Printing Projects
Mininberg doesn't solely use 3D printing for creating action figures. "I have used my 3D printers for other projects, too," he clarifies. "I collaborated on a part with my dad, and submitted a patent for it. It's an electrical safety device. Specifically, it's a lockout tagout (LOTO) device for industrial electrical equipment."
For those who aren't familiar with the industry, a LOTO helps ensure that equipment is properly turned off, so that it isn't accidentally turned on or started up while someone is performing maintenance on that machine.
Keeping Up with Mininberg
Those who want to keep up with Mininberg can view his website, or follow him on Instagram. "My Instagram account shows more of my progress pictures. I think it's neat to see the progression," says Mininberg.