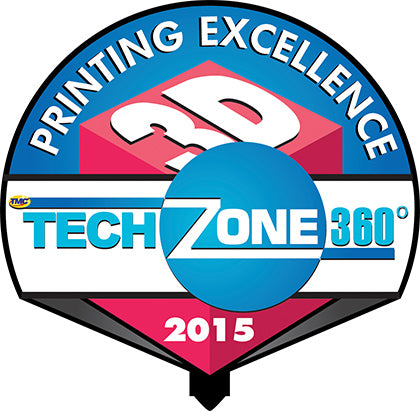 TechZone 360, a leading website dedicated to technology news, has recognized the H800 3D Printer as a recipient of the 2015 3D Printing Excellence Award. TechZone 360 is sponsored by TMC, a global integrated media company.
TechZone360's 3D Printing Excellence Awards identify those products, services, and applications that are driving the growth and evolution of 3D Printing.
"Congratulations to Afinia 3D, winner of a 2015 3D Printing Excellency Awards," said Rich Tehrani, TMC (News – Alert) CEO. "They are an innovator and leader within the 3D printing industry and are deserving of this recognition. We look forward to their future successes."
We received the TechZone360 3D Printing Excellence Award in recognition of our innovative H800 3D printer. The award was accepted by John Westrum, Vice President.
Westrum remarked, "This is the second time that our H800 3D printer has received an award this summer. We've shipped quite a few of them and have been getting excellent reviews from our customers. We are honored to receive the TechZone 360 award, as a predominant addition to the series of awards Afinia has won previously for its 3D printing products."
We continue to be a leading provider of desktop 3D printers, scanners, and related software, with customers worldwide. Our H-Series 3D printers have received Make Magazine's "Easiest to Set Up", "Easiest to Use", "Best Overall Experience", and "Reliable Performer" awards, as well as the RAPID 2015 Exhibitor Innovator Award.
TMC is a global, integrated media company that supports clients' goals by building communities in print, online, and face-to-face. TMC publishes multiple magazines and is the leading source of news and articles for the communications and technology industries. TMC also produces a variety of trade events.