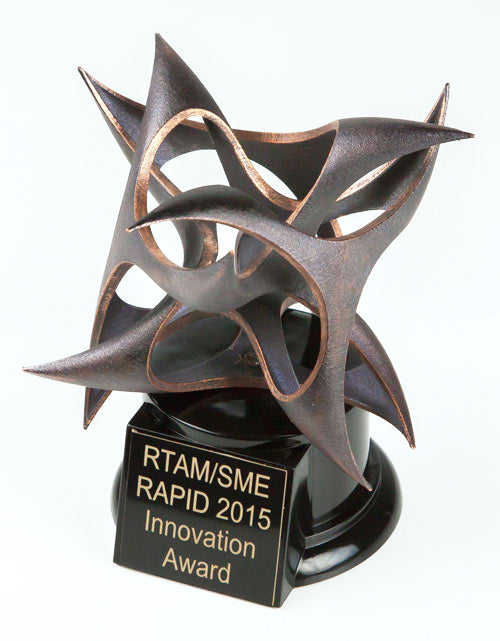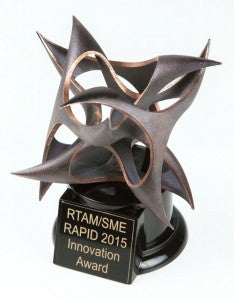 We are proud to announce that we've received the RAPID 2015 Exhibitor Innovation Award for our H800 3D printer. Pre-orders for the H800 begin shipping in June, with new orders shipping in July.  The large build size, HEPA filtration system, and unbeatable Afinia support make this a highly sought-after 3D printer.
"RAPID would like to congratulate Afinia 3D on winning the RAPID 2015 Exhibitor Innovation Award for their Afinia H800 3D Printer. The RAPID Exhibitor Innovation Award recognizes the most innovative new products or services exhibited at RAPID that are judged to have the greatest potential impact on the industry," said Maria Conrado, Event Manager.
Afinia 3D was selected as the award recipient by the Society of Manufacturing Engineers' (SME) Rapid Technologies & Additive Manufacturing (RTAM) Committee.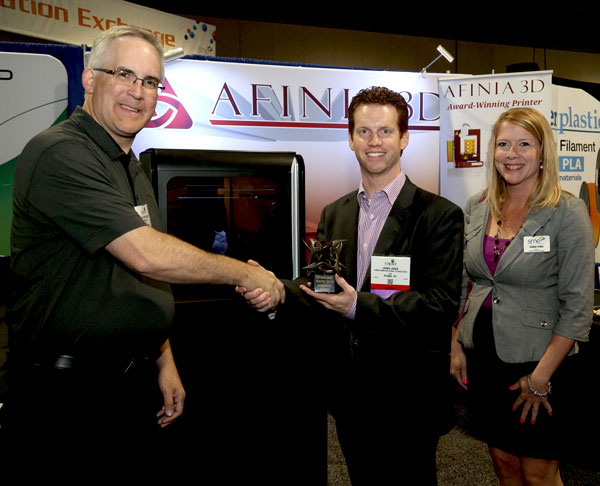 John Westrum, Vice President, and Zack Sterzinger, Sales Representative, were happy to accept the award, while exhibiting the Afinia 3D printers at the RAPID event. "We've listened to our customers and used their feedback to provide a printer that we feel will truly meet their needs," said Westrum. "The H800 has undergone months of testing and preparation to ensure that it meets the high standards that Afinia 3D sets for all of our products, and we are looking forward to seeing what our customers will create with the bigger build area."
The H800 has a build area 5x larger (10 x 8 x 8 inches) than the Afinia 3D H480, and includes additional enhancements such as a HEPA filtration system, fully-automated leveling and height sensing, ultra-fine 100-micron print resolution, and one button filament-reel changing. Although the H800 includes many more features than the H480, the H800 delivers an "out-of-the-box 3D printing experience," arriving fully assembled with easy-to-install software for PC and Mac.
To add your name to the waiting list for the H800, please visit our online store.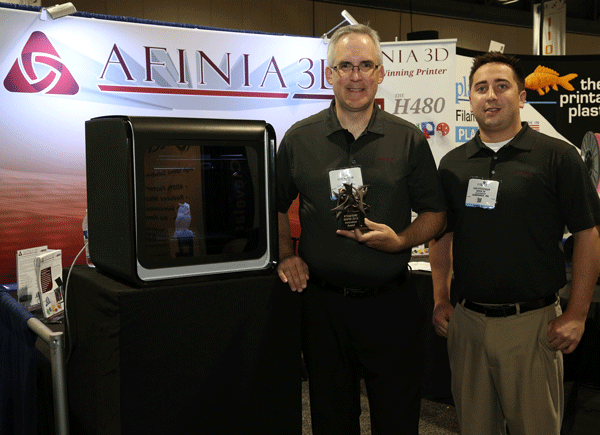 About RAPID
For 25 years, the RAPID Conference & Exposition, produced by SME, has defined the crucial role of additive manufacturing and has empowered the establishment of an industry that continues to conceive, test, improve, and manufacture new products at a faster, more cost-efficient pace. As the leader and authority-figure in additive manufacturing, RAPID attracts buyers, sellers and end-users of design, prototyping, tooling, and direct digital technologies to a world-class event for discovery, innovation and networking. For more information, please visit rapid3devent.com.