Corinne Okada Takara is a Bay Area artist and arts educator who creates technology-integrated art projects. Takara creates public collaborative works of art and hosts workshops at museums, libraries, classrooms and colleges. Her most recent collaborative art project, "A Serving of Shapes," incorporated 3D-printed art.
---
Art and Education
"As an artist and educator, 3D printing sparks my interest on multiple levels. I knew I wanted to explore the exciting possibilities with 3D printing and wouldn't move my work forward without a 3D printer; I realized this especially after attending a 3D printing expo last fall. I was already working in SketchUp, but the thought of printing my designs was exciting, so I started searching for a printer. The stars aligned, and I found a tradeshow model being sold on Craigslist."
The Fine (Art) Prints
"I have successfully incorporated 3D printing into my fine art in a short period of time. I've received grants that have allowed me to engage the public to create collaborative art, and 3D printing has been a fantastic way to engage youth and the greater community in these projects. People get excited about creating their own 3D printed designs and want to see the prints right away. Sometimes I have to explain why the 3D printing process takes some time! The public is quite awed by the technology and are very quiet and focused while designing. Every once in a while, you hear the gasp of an "ah-ha" moment or an excited statement."
"My most recent collaborative project was "A Serving of Shapes," which was an exploration of the relationship between Silicon Valley's agricultural past and its technology-infused present. I conducted public workshops at the de Saisset Museum and in two teen satellite workshops in San Jose (at a library and a community center).
In these workshops the public was invited to design objects on computers that reflected on their relationship with food and local agricultural history. Picnic tables were set up in the two museum gallery workshops, but so many people attended – kindergartners to the elderly – that some were using the floor for space. The 3D printers we had in the space really engaged the public in this journey with me. The whole process got visitors talking about community identity and reflecting on their relationship with food. Much of my work is interested in exploring culture and individual and collective identity in changing communities. I moved 11 times growing up, so identity and culture are interesting to me. 3D printing is a useful and exciting tool to explore these concepts deeper with people. It literally gets them looking at things from different angles and gets them thinking in different ways."
"Teens were very proud to explore 3D printing at their local library in the library workshop component. The de Saisset Museum and I selected designs from all the workshops and incorporated them into the installation that traveled from the Museum to the Dr. Roberto Cruz Library and to the Mayfair Community Center in San Jose. When they saw their design on display, they would smile, point, and take pictures of their work. It was nice because some satellite workshop participants also came to the de Saisset Museum at Santa Clara University for the reception."
"I also create art for hospitals and am incorporating bits of 3D design into these larger tapestry projects. Right now, I'm working on two pieces that reflect on neurology and neurons for the neurological researcher center at the University of Massachusetts."
The Mobile Maker Cart & "Pop Up" Art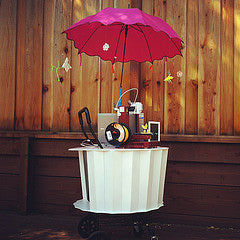 "I'm engaged with technology through my art and sometimes forget that much of America isn't following this wave of technology as closely as I am.
It's rewarding to share my 3D printing journey with people who don't have as ready access to it. To further engage the public with art and 3D printing, I experimented with the idea of "pop up" art workshops using a Mobile Maker Cart. It was like street performance art, since the cart resembles a cupcake and I had a spinning rack set up like how you would order at a diner."
"One of the first debuts of the Mobile Maker Cart was in Japantown, San Jose. We used WiFi from a nearby Café, had a computer set up with Tinkercad, and were printing out netsuke (Japanese trinkets that function as purse counter weights in kimono obi sashes). Many people wandering the public streets didn't know what 3D printing was. When I said I was "3D printing" they asked, "where's the paper?" It was great to give them exposure to this technology and see their reactions."
Other Artists
"I love seeing what other artists are doing with 3D printing. Joshua Harker does beautiful work. Anouk Wipprecht is doing an amazing collaborative open source element dress.
She is inviting people around to the world to modify her original file in Tinkercad and send it back using the hashtag #ParticleDress. She is going to produce a light up garment made of all of these units. If anyone is interested in participating in the project, they can go to her Instructables page."
"There is an exciting element of risk and surprise in these collaborative projects. As artists, we bring projects to life. But we can't provide an exact sketch of what it will look like in the end when it relies on public input. So artists can stay in their own zone and use their own vision, or they can take their creativity and create global projects where the outcome is unknown. The only 'known' is that it will bring people together. It is beautiful that people's individual work can be combined via 3D printing, creating something bigger. 3D printing has been a perfect avenue for getting people involved and excited about art. It is a great tool for self-expression, and it is exciting to see the potential it has for future art."
Education
"My two kids are very involved in 3D printing. They both help me teach teen workshops about the technology. We would love for everyone in Silicon Valley area to be a part of this 3D printing synergy, but the outskirts of Silicon Valley don't have the same resources, so we are focusing our workshop outreach in these areas."
"I am preparing for my Dia de los Muertos Calaveras project at the Dr. Roberto Cruz Library in San Jose. It is a self-funded project, but hopefully the outcome will inspire funding for additional projects. The teen workshops will be September 25 and October 2 from 4-5:30pm and will be free. We will be designing sugar skulls in Tinkercad, adding individualized elements that represent and honor loved ones, and printing the calaveras with Afinia's glow in the dark filament. Each piece will be installed in the public library with a written statement by each teen about the piece and their elements. I have come to realize that 3D printing is a great way to connect with literature and creative writing. It can connect to so many aspects of student learning and school curriculum." (Anyone interested in supporting this 3D printing workshop can donate to the non-profit Alum Rock Educational Foundation with a note in the donation submission form that it is for 3D printing workshops.)
Pleasantly Surprised
"Believe it or not, I got my printer off of Craigslist. It was incredibly simple to run, and I was lucky that I could call the person I got it from if I had any questions. When I ran into a small problem that required customer support, Afinia was great. I had tweeted something about having a problem and right away, someone messaged me asking for more details about the problem I was having. I sent it to Afinia to get fixed, and it was a very smooth process. I wish all my customer service experiences were like this! I've heard from people with other brands of 3D printers that it is really hard to get good support. I was pleasantly surprised with Afinia."