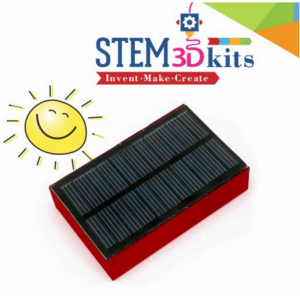 Project-based Learning STEM Kits that incorporate 3D printing are an excellent way for educators to introduce 3D printing to their students. They foster important skills that involve problem solving, creativity, and critical thinking. To better serve our education customers, we now offer 11 STEM 3D kits through our online store and our education reseller* network nationwide.
Each kit includes hardware, a Student Workbook, and CAD templates. These STEM kits can be purchased in several quantities. Multiple quantity packs include the previous list of materials, along with one Teacher Workbook.
Project-based Learning STEM kits available:
Mini Boom Box
Balance-Bot Warrior
Night-Light
Solar Powered Battery Charger (shown)
Derby-Dash Crash
Heart Rate Watch Cover
USB Power Bank
LED Clock
Spirobot (draws spirographs)
MIRA 5-axis Robot
These kits are designed to be student-centric. They are easy-to-use and set up, and stimulate right-brain thinking. Also, they present design problems to each student to expand their thinking. For example, the Derby-Crash Kit, where the students get to design an addition to their bot which will flip over their opponent's bot.
"Educators realize that students learn by a number of means, including visually and kinesthetically. Reaching the visual and kinesthetic learners can be challenging, especially when teaching math or science," remarks  Vice President John Westrum. "Our 3D Printing Project-based Learning STEM Kits allow educators to bridge the gap for those students and increase their success. Hands-on learning can really engage students who may be having a difficult time grasping concepts."
View the complete collection of STEM kits on our online store, or contact us to find the reseller nearest you.