Lisa Cacciatore is the technology integration specialist at Castleton-Hubbardton Union School District. She collaborates with faculty and staff from K-8th grade to brainstorm how to integrate technology into their curriculum, while bringing creativity and enthusiasm to every facet of the job.
---
The Entry to 3D Printing
"Our district has had the Afinia 3D printer for about 2 years. It's been our tried-and-true 3D printer," explains Cacciatore. One of the many reasons she praises the Afinia 3D printer is "it always stays calibrated, even though it travels from school to school!"
The Afinia 3D printer has also been easy for Cacciatore to use, even without previous 3D printing experience. "After taking my position with the district, I took a graduate-level course, where Rodney Batschelet—who loves the Afinia brand 3D printers—became my mentor. We work in the same district, which is very convenient.
3D Printed Vermont Architecture and History
Several students from Cacciatore's district recently participated in the 3D Vermont Architecture and History Olympiad. For the competition, the students researched two historical buildings in Castleton. Then, they used SketchUp to model and scale them to 1/200th of their actual size. After that, the models were printed on the district's Afinia 3D printer.
"It was a really neat competition that incorporated a lot of math, and the students did very well with it. The Medical College building they modeled and printed won the Middle School division!" exclaims Cacciatore. "3D modeling and printing has been a great way to demonstrate how the concepts they are learning in school may be required in their future careers."
Cacciatore thought the Olympiad was set up very well, and was a great experience for the students. "The students were judged on the accuracy of their scaled model, their oral presentation, and the content of their multimedia exhibition. It was a great project for them to exercise multiple skills that are necessary for their success after graduation," explains Cacciatore, adding, "it's also very motivating for students to see the results of their hard work: the 3D models will be placed on a Vermont map and will tour around the state."
A Project for All Ages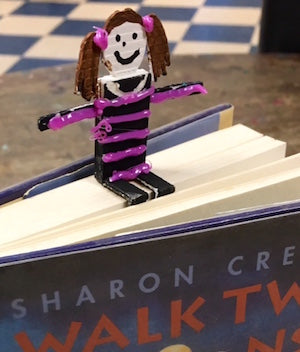 In Cacciatore's school district, students in grades three through eight participate in 3D printing projects. "Each grade works on projects that are adjusted to their level of education and curriculum. For example, some of our youngest grades have used 3D printing to make bookmarks. Others are modeling and 3D printing multi-piece catapults, which require a lot of math, or are creating scale models of the solar system for their science classes," tells Cacciatore.
The district's "soft science" classes also partake in 3D printing. "Language arts classes have also incorporated 3D printing projects. For example, one class read a book that was about design. Their project was to then design something that would improve the world. They had to write about what that thing would be and create a 3D-printed prototype."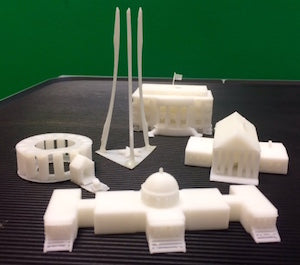 Cacciatore also explains that the social studies teacher had students use the 3D printer to recreate some of the monuments in Washington DC. "They put QR codes on the models they've created, and it gives the 8th grade students a chance to learn more about each place before they take their field trip to DC," she says.
Getting Inspired
Bringing 3D printing into the school was very exciting for both the students and teachers. "Their initial reaction was amazement," says Cacciatore. "The students just wanted to stare at the process of it printing."
"It's interesting to see how 3D printing affects students," Cacciatore remarks. "When they see each others' projects, when they are so tangible, they start to come up with more ideas and designs."
"The teachers are also inspired by 3D printing: one of the math teachers recently had students scale down basic shapes and print them off, and noticed that they looked like little game pieces," says Cacciatore. Now that teacher wants to create a Monopoly-like game and let the kids create the pieces, and be rewarded with a game day. It's such a simple, yet great, concept!"
3D Printing Makes a Difference
Cacciatore says that she has noticed a difference with students since introducing 3D printing into the district. "For some kids who used to struggle to be attentive, they are now really able to take off on STEM projects. They are more engaged with their learning," she explains.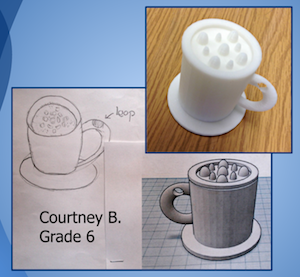 3D printing is teaching students another valuable lesson: patience. "By nature, 3D printing is not the fastest process. Students these days want instant gratification, but with the design process, it can sometimes take a while: if your project doesn't turn out the way you want, you go back to the drawing board, adjust the design, and reprint," says Cacciatore. "However, students appreciate it a lot when it finally comes together. It's great to see their willingness to stick with a project."
For some students, 3D printing is such a motivator that the school is debating using it as an incentive. They are considering allowing students who go "above and beyond" to be rewarded with being able to design (or find a pre-designed file) and print something for free.
To learn more about 3D printing for schools, please see our Afinia for Educators page.