Maureen Borgeest is the Library Media Specialist and Debbie Kearney is the library assistant at Oliver W. Winch Middle School in South Glen Falls, NY. The middle school recently created a makerspace in the library, where they use the H800 3D printer.
Making the Makerspace a Reality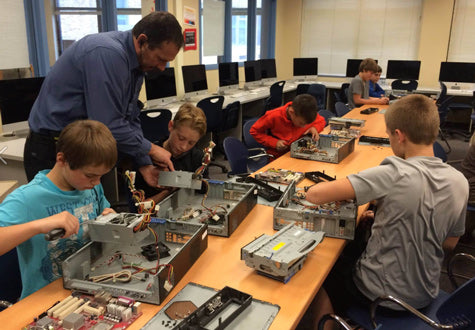 As the Library Media Specialist, Mrs. Borgeest is always looking for ways to improve students' access to technology and information. Thanks to her, along with the approval and resources of district officials, Oliver W. Winch Middle School opened their makerspace in October 2015.
"Makerspaces have been in existence in the library world for quite a few years, and I had read a lot about them both online and in professional journals," explains Mrs. Borgeest. "It's something I've thought is incredibly valuable and could see implementing in our own district, so I pitched the idea and our Administrator, Mr. Dawkins, and our Director of Technology, Mr. Spada. Both of them were very enthusiastic about it. They were incredible in making the makerspace a reality."
Mrs. Borgeest and Mrs. Kearney are very happy with the equipment they are able to offer at the makerspace. "There are laptops, chromebooks, Windows computers, Macs, littleBits, Arduino robots, an Apple TV, Smart Board, poster maker, iPad with scanner, and of course the Afinia 3D printer. Mr. Spada has been very generous while getting the space set up, and it's exciting to see the students interact with these things!" exclaims Borgeest.
"The Coolest Thing"
The Afinia H800 is the first 3D printer to be welcomed into the middle school. "This year is really a trial run for us, since it's the first time we've had access to the technology," Mrs. Borgeest explains. "But the students already love it! They think it's the coolest thing. They really do… It's fascinating. And Mrs. Kearney has done a fantastic job working with students and the printer to keep it running."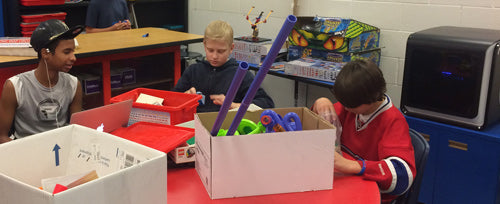 To begin the students' interaction with 3D printing, Mrs. Borgeest and Mrs. Kearney have students design objects in Tinkercad and allow them to find files on Thingiverse. "If a student creates or finds something they want to print, they come to us for permission to print it out," says Mrs. Borgeest. "Then Mrs. Kearney helps students one-on-one getting the machine ready."
Mrs. Kearney says that many of the designs students are creating are items they use in everyday life. "We've had a student make a matchsticks case that would hold small items and keep them dry while camping," recalls Mrs. Kearney, adding, "Another student created a unique creature, combining different body parts and printing out the final product. It was pretty interesting!"
"It's great to see their excitement with 3D printing," says Mrs. Kearney. "They are always excited to take their prints home with them, and show them off. Mr. Spada has also gotten in on the action and 3D printed a Bulldog (the school mascot) that sits on his desk! After he printed it, the art teacher painted it. It's really neat. "
Learning, Planning, and Rewarding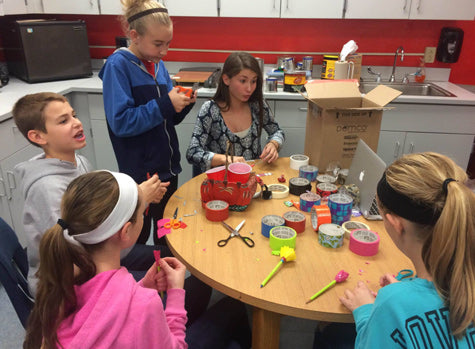 Mrs. Borgeest and Mrs. Kearney are looking forward to using the printer more next year, as they become more familiar with it and find new ways to incorporate it into the curriculum. "We work closely with teachers to design lesson plans," says Mrs. Borgest, "and we think that the printer will come in handy for a lot of different classes. The 7th graders take an entrepreneurship class, and we've discussed the students designing something and selling it for that project."
Mrs. Kearney explains that sometimes the 3D printer is used not as part of a project, but as a reward. "For example, we have a 6th grade student who is autistic," begins Mrs. Kearney. "He's very bright, but sometimes has behavioral issues. When he's behaving well, he's able to come to the makerspace and use the printer. It's been beneficial for him."
"He designs everything himself, and he's very good at it," continues Mrs. Borgeest. "He sometimes has difficulty interacting with people, but he communicates with Mrs. Kearney about the 3D printer quite a bit… much more than at the beginning of the school year," tells Mrs. Borgeest. Mrs. Kearney agrees that he's much more vocal with her now than he ever was before, and looks forward to the progress that he and all the other students make with the incorporation of the makerspace.