Shane Helmich is the 7th and 8th grade PLTW teacher at Olive Peirce Middle School in Ramona, CA. He teaches Design & Modeling and Automation & Robotics courses, incorporating 3D printing into each.
PLTW Building 3D Printing Experience
Olive Peirce Middle School purchased the Afinia H480 3D Printer two years ago. "The principal gave me the go-ahead to get a 3D printer because we had some extra funds, and wanted to expand the STEM curriculum," explains Helmich. At the time, Helmich did not have experience with 3D printing, so he researched the 3D printers on the market. "The Afinia brand was recommended by Project Lead The Way (PLTW)" Helmich says. "I was told it was an easy setup, and would be a nearly 'out-of-the-box' option. Of course, there's an art to 3D printing, but it was pretty quick. I felt I had a strong grasp of it after just a couple of weeks."
"The students seem to pick up on it quickly, too," Helmich says. " At first, the students would design something, convert the file to .STL, and I scaled it to their liking and printed it out for them. But recently, I've been allowing the students do those parts themselves. Once they get the hang of it, they just go, and it saves us time so we can complete more prints."
Students React to "Cool" Tech
Helmich's students were "really excited" about welcoming the 3D printer. "Even though 3D printers have been around for a while now, it was something very new to the students. Just to watch it was intriguing. Lots of students would stand around and some would want to touch it. They think it's so cool to just watch it build the model," explains Helmich. He adds, "Even after two years, there's still an excitement there."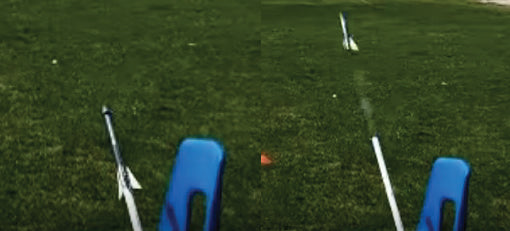 According to Helmich, there's been a noticeable difference in students' learning, too, that seems to stem naturally from the excitement associated with 3D printing. "Students are more excited to use AutoDesk CAD software because they know they will actually see, hold, and test their design. Before we could 3D print them, they just looked at the designs on a computer screen… it's not as exciting," admits Helmich.
"If the students want to print something, they are supposed to come into school early to let me know so I can get it ready to go," says Helmich. "It's great, because they come in excited about it. Their interest in learning seems to have increased."
Implementing 3D Printing with Compressed Air Rockets
"We use the 3D printer for a variety of projects, but there's not time to tell about all of them!" exclaims Helmich. One of the bigger projects they work on in Helmich's classroom is building compressed air rockets.
"First, students make rockets out of paper. Then they use AutoDesk to recreate it, convert it to an STL file, and 3D print it. Depending on their model, there are a number of things they need to be aware of before printing." Helmich explains, "Because of how the rocket launcher is built, the inside diameter of the rocket where it connects to the launcher needs to be ¾". Depending on their design, when it is scaled accordingly, it's larger than the Afinia H480 build area, so they need to slice their model into parts and print them separately. It pushes them to become even more familiar with the design and printing process.
"I made a 100 psi rocket launcher, so the rockets can really 'get some air.' Since the plastic we use is hard, and can create quite the impact at high speeds, we make sure the kids are standing back a safe distance before launching their designs. It's really neat to see how far some of the designs go," says Helmich.
Challenging Students For Better Learning
"We also create air skimmers. Again, we start by making them out of construction paper, then build them in Autodesk, and have some 3D printed." Helmich explains that only some of the models are printed due to the limited amount of time they have during the semester. "The 3D printer doesn't print quite as thin as the paper we use in our initial construction, so we do have to make it thicker in CAD. The students have to work to make the design thick enough for feasible printing, but thin enough that it can still skim well. It's a good challenge for them, and teaches them a lot."
Helmich also shared that their class recently 3D printed CO2 dragsters. "Usually we make them out of wood, but we used the 3D printer for that, too. It works well because the models can be very light," Helmich adds, "One was going about 80 mph and went off the fishing line! As I get better with these models, I'd like to get outside and test them. Then we can really see how fast and how far they can go."
Support
"Overall, the 3D printer has been working well. The few problems I've had I've either been able to fix myself, or was easily able to contact the Afinia support for their help. All I had to do was send them a video of the printer. Within 24 hours he got back to me about what the problem was and how we could fix it," says Helmich.
"I also like the fact that Afinia has some of the parts of the printer 3D printed. It makes it easy to customize the printer, if/when needed."