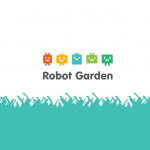 Daniel Casner is the president of Robot Garden, a community workshop that provides members with the resources to create technologic and artistic projects, individually or as part of a team. As an indication of Casner's community activity, he recently received the President's Volunteer Service Award.
---
"An idea is a curious thing. It will not work unless you do." – Jaeger's Facts
Daniel has the above quote on his personal website. After interviewing him, it is clear that through hard work, he has been able to bring great ideas to life. One such idea is Robot Garden, a community workshop in Livermore, CA. Robot Garden strives to inspire and educate the community and promote interest and innovation in STEAM (science, technology, engineering, art, and math).
Beginning with Beer
In 2012, over a beer, Casner and his friend, Andra Keay, discussed their desire for a local makerspace. "I had been a member of the TechShop Maker Space in Palo Alto [before moving] and wanted to have access to a similar facility, but there wasn't anything closer than an hour's drive," explains Casner. Based on that shared desire, Casner and Keay created the first open-to-the-public makerspace in the Tri-Valley community, and the very first robotics-themed makerspace in the world.
Hackerspace v. Makerspace
Robot Garden is referred to interchangeably as a hackerspace and a makerspace. Casner explains, "both terms have their own baggage with certain people. The basic idea is that we are a community workshop that allows individuals to come together to work on their own project or the projects of others. They have access to a facility, tools, training, and workspace to make their ideas come alive. It is like a gym. You become a member because it has equipment that is too big and too expensive to have in your own home."
With Robots and Tech for All
Not only is Robot Garden the only makerspace in the
Tri-Valley area, it sets itself apart by being completely non-profit, volunteer-run, and being the only robotic-themed makerspace in the world. At Robot Garden, robots are available for people to use for their projects and to learn about programming. It is also one of the few child-friendly spaces, with users ranging from 18-months to 70 years.
"Obviously, the youngest ones don't use equipment. We have safety and basic usage classes that people take in order to use the equipment. But for the younger ones, we have a play space and we are currently looking for more age-appropriate building toys, Legos and such. It is never too early to start fostering a child's love of learning and STEAM. We are looking forward to educational programming for younger children," expresses Casner.
The 3D Impact
"Having a 3D printer in our space has been one of the bigger draws. We get a lot of people who come in for robotics, but one of the things that gets people to become a member is having access to a 3D printer. It's our bread and butter."
"Our 3D printers get a lot of heavy use," Casner says. "We have a ton of exciting projects that take place in our building. Our Underwater Robotics Interest Group is making high-end, hobby-level robots. They will be powerful enough to carry scientific tools and collect information that scientists need to study sea star wasting. Using materials from our sponsors EZ-Robot and TurtleBot really help get people started and allow them to move on to doing these bigger, underwater projects."
"Startup companies are building prototypes on our 3D printers. POC Medical is creating a low-cost, portable cancer diagnostic tool for 3rd world countries, which could ultimately save lives. Members are using our 3D printer to work on projects, like creating a mechanical travel toothbrush holder and toothpaste dispenser. My wife and I are also using it to make resin casting molds."
Community
The idea for Robot Garden was started by two people, but its reach is tremendous, and its location is ideal. "Robot Garden is situated among a large technical population who do very big, but abstract things in their day jobs that they can't take home with them, for national security reasons. They want to do something technical in their own time, so a lot of our members come from labs. Even so, we made sure our makerspace was community-friendly, because Livermore is basically a smaller Silicon Valley. It is where you go when you want to be involved in technology but also want to have a family," explains Casner.
"We have a great, synergistic relationship with i-GATE. They give us space and in return, during the weekdays their startup community gets access to our workshop and rapid prototyping tools." Robot Garden seems to impact everyone in the community, from individuals to companies.
Choosing the Afinia 3D Printer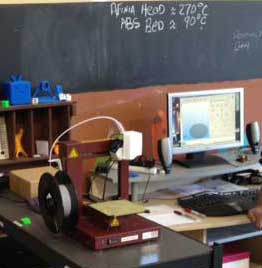 "There were two main reasons we chose the Afinia 3D printer. First, it won Best Overall Experience, Easiest Setup, and Easiest to Use in the MAKE Magazine 3D Printer Shoot-out. It was important to us to have a printer that was usable by all skill levels – from beginner to advanced. The price was also affordable, not only for the printer, but for the filament, as well, which is 100x less expensive than some other filaments." Because of the low filament cost, Robot Garden is able to provide it to their members at no charge, meaning we forego the hassle of tracking member use and billing. Casner also admits, "The prints off Afinia 3D printer are even better than the [more expensive printer's]."
What The People Want
With the number of people interested in STEAM and the technology that Robot Garden is able to provide, it has seen a great deal of interest. Casner says, "We started Robot Garden for ourselves and it turned out that what we wanted was what a lot of other people wanted as well."
You can also read more about Robot Garden in this blog by Scott Grunewald.